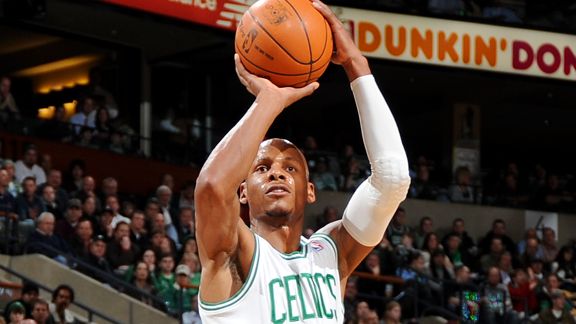 Brian Babineau/NBAE/Getty Images
The reason for all those open looks for Ray Allen? Screens from his teammates.CHICAGO -- Celtics point guard Rajon Rondo admirably pinned Boston's offensive struggles during Saturday's loss to the Chicago Bulls on himself, noting after the game that it is his job to quarterback the team, and as such, any offensive turbulence falls on him.
But on a night when coach Doc Rivers suggested that Boston basically "bounced the life out of the game," it was painfully obvious that a heavy-legged Celtics squad playing its fifth game in seven days and the back end of its second back-to-back of a grueling week didn't have the energy to do the little things that have made Boston the best shooting team in the league.
And it started with a lack of screens.
The Celtics hit the floor hell-bent on getting Ray Allen going, but the lethargy that soon crept in clearly impacted that plan. Allen put up nine shots in the first quarter, scoring 10 points, six on 3-pointers. But the screens soon disappeared, and Allen attempted just one more shot the rest of the half and only three after intermission, not hoisting a single attempt in the fourth quarter despite playing all 12 minutes.
That's almost absurd. In a half-court set, which Boston operated out of almost exclusively Saturday, the Celtics rely on their ability to move opposing defenders by forcing them to scramble to cover shooters who pop open -- most notably Allen, whose ability to draw help defenders often creates open shots for others.
The Celtics didn't set screens Saturday. They didn't move the ball. They labored through 28-of-74 shooting (37.8 percent) with Glen Davis putting up a team-high 17 shots in 43 minutes.
"Over the last five or six games, Glen Davis is actually leading us in shot attempts," Rivers said. "I love him, but that should never happen."
Just how important is it for the Celtics to get Allen shots off screens? Boston is 10-0 this season when he scores at least 20 points, and according to stats from Synergy Sports entering Friday's action, more than 30 percent of Allen's point output is generated on shots off screens.
Coming off a loss in Detroit in late December, Rivers lamented his team's pick-setting and suggested it was the reason Boston had lost two of its previous three games (and was about to lose its next game to New Orleans).
"We have to do a better job of setting picks," Rivers said.
Click HERE to read the full story.