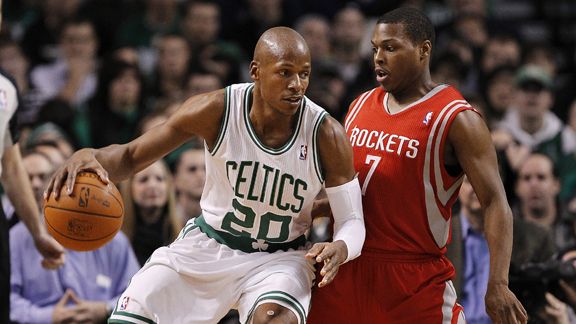 Mark L. Baer/US Presswire
Ray Allen backs down Kyle Lowry Monday night. But the Rockets wouldn't back down.BOSTON -- Rapid reaction after the Houston Rockets defeated the Boston Celtics 108-102 Monday night at the TD Garden:


HOW THE GAME WAS WON
Aaron Brooks returned from injury to score a game-high 24 points on 8-of-15 shooting, hitting five 3-pointers while handing out five assists over 36 minutes as the Rockets snapped a five-game losing streak. Ray Allen and Marquis Daniels each scored 19 points for the Celtics, while Paul Pierce added 16 points. Boston shot 50.7 percent (38-of-75), but the Celtics' defense struggled, allowing the Rockets to shoot 52.7 percent (39-of-74).
TURNING POINT
The Celtics trailed by six entering the fourth quarter and were unable to generate stops over the first nine-plus minutes. The Rockets connected on eight of their first nine attempts in the quarter, the lone miss being tipped back in. Pierce missed a layup that would have cut Boston's deficit to six and Brooks drilled a monster 3-pointer at the other end to push Houston's lead to 101-90 with 4:26 to go. Boston's first honest-to-goodness stop (no second-chance bucket or free throw attempts) of the quarter didn't come until 2:31 remained in the game.
STAT OF THE GAME
The Rockets lit up the 3-point line, connecting on 10 of 20 attempts beyond the arc, putting Boston in a double-digit hole in the second half and preventing any sort of rally.
UNSUNG HERO
After dropping 24 points here in Houston's win last April (connecting on 6 of 8 3-pointers), Chase Budinger produced another fine outing as he hit 5 of 6 shots, including 3 of 4 triples, while scoring 13 points in 18 minutes off the bench.
WHAT IT MEANS
Another post-Christmas swoon? The Celtics dropped their fourth game in nine tries, including their second home loss in 11 days. Not exactly the way to kick off a six-game homestand that only gets more challenging down the road (Orlando and Utah loom next week). Boston's typically stout defense clearly misses Kevin Garnett, but the silver lining is that he could be back as early as Wednesday's game against Sacramento.