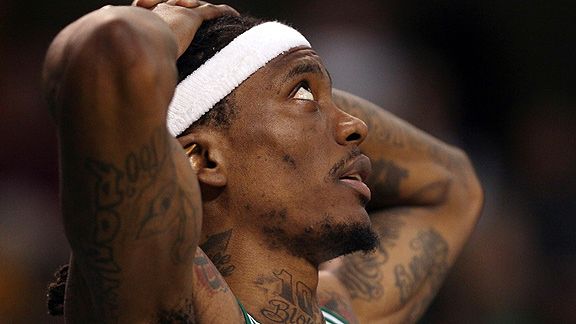 Elsa/Getty Images
Marquis Daniels checks out the scoreboard during Monday's loss to the Rockets.BOSTON -- With their defense failing them in the fourth quarter of Monday's tilt with the Houston Rockets, the Boston Celtics needed an offensive spark to keep them within shouting distance and bolster their chances of stealing the game in the final minutes. With the usual suspects -- Paul Pierce and Ray Allen -- resting on the bench, Marquis Daniels stepped in to fill that void and scored eight of the Celtics' first 14 fourth-quarter points.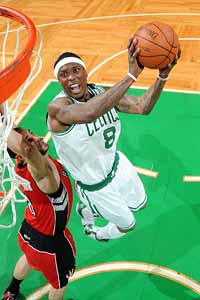 Brian Babineau/NBAE/Getty
Marquis Daniels chipped in a team-high 19 points on 7-of-8 shooting vs. the Rockets.Daniels finished with a team-high 19 points (matching Allen's output) on 7-of-8 shooting with seven rebounds and three steals over 24:15. His offensive efforts weren't enough as the Celtics fell to the Rockets, 108-102, at TD Garden.
The crafty Daniels, often at his best when slashing to the rim, converting layups, or getting to the free throw line, relied on his jump shot to start his fourth-quarter scoring spree. He buried back-to-back jumpers over Houston forward Chase Budinger to keep the Rockets' lead manageable. Soon after, the 6-foot-6 Daniels found himself matched up with 6-foot guard Aaron Brooks and exploited the mismatch by driving by him and converting an easy right-handed layup.
"I just tried to be aggressive and take whatever they gave me," said Daniels. "I tried to use my size and get to the basket."
Unfortunately, Daniels' efforts couldn't make up for Boston's poor defensive showing in the final frame. The Rockets converted 10 of 15 field goal attempts in the fourth quarter and, as a team, were able to answer all of Daniels' baskets with buckets of their own.
When Daniels scored his final points of the game -- a short jumper in the paint with 2:55 to play -- the Celtics had yet to make any true headway, still trailing by double digits at that point, 106-96. Even still, without Daniels' offensive exploits, Boston's late comeback attempt (the Celtics pulled within four with 27 seconds to play) wouldn't have been possible.
"I thought [Daniels] was the one silver lining tonight," said Allen. "He kept us in the game for the most part."
It wasn't just the fourth quarter where Daniels left his mark on the game. The Rockets held a five-point lead at the end of the first quarter and Daniels was instrumental in helping the Celtics trim their halftime deficit to one.
With 9:34 to play in the second quarter, Daniels corralled an errant 3-pointer by Nate Robinson, drove along the left baseline, and converted a layup in traffic while being fouled by Patrick Patterson (finishing the and-1 play at the stripe). On Houston's next possession, Daniels stripped Budinger and was fouled as he attempted to convert a layup in transition and converted both freebies. Later in the quarter, with the score knotted at 43, Daniels scored on an easy layup off a feed from Allen to give the Celtics one of their final leads of the first half.
"[Daniels] helped us out a lot," said guard Nate Robinson. "We had a couple scoring droughts and he picked up the slack."
Celtics coach Doc Rivers was quick to praise the effort of Daniels and his bench mates, pinning the blame on Monday's loss on the starters.
"I thought our second unit actually got us back into it, in the first half and the second half, and all they did was came in and played hard, played aggressive," said Rivers. "And I also told our starters that when we're down men like we are with [Kendrick Perkins] and Delonte [West] and Kevin [Garnett] out, our second unit needs your help. They need you to play well, to give them a cushion. It shouldn't be the other way around."
Rivers suggested after the game that Daniels, whose minutes have been scattered lately, could see more time if he can maintain a solid level of play. Daniels played all but 37 seconds of the fourth quarter, a sign that Rivers might already be leaning on him in smaller lineups until Garnett is able to return.
Daniels, a proud Auburn product, got a small dose of good news to ease Boston's loss: His Tigers got a late field goal to edge Oregon, 22-19, in the BCS college football national title game.
Greg Payne is a student intern for ESPNBoston.com