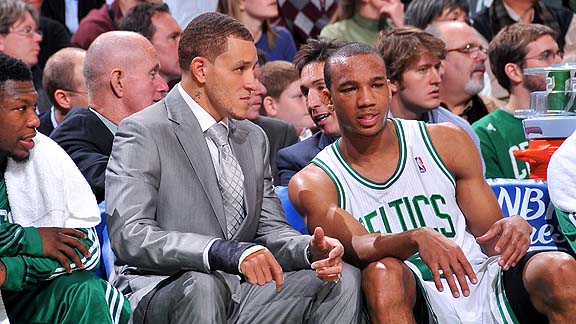 Steve Babineau/NBAE/Getty Images
Delonte West has shed the cast on his right wrist and is working hard to get back on the floor.WALTHAM, Mass. -- One day after resuming on-court basketball activities, Delonte West on Tuesday detailed his somewhat peculiar off-court rehabilitation activities for a fractured right wrist: Karate videos on YouTube and buckets of rice.
"I've been looking at like Karate masters and stuff on YouTube and honestly they teach learning how to fall -- tuck and roll and all that, and jump up and Judo kick," West enthusiastically told reporters. "So I don't plan on breaking anything anytime soon, so cameramen on the baseline, watch out for the Judo kick."
After resuming basketball activities Monday for the first time since suffering the fractured wrist against the New Jersey Nets on Nov. 24, West engaged in his second day of hoisting up shots at the Sports Authority Training Center at HealthPoint.
West admitted to soreness in the wrist after Monday's shooting session, but was back on the court following the Celtics' practice Tuesday, going through a shooting drill with assistant coach Mike Longabardi. West, sporting a black brace on the injured wrist, caught light passes with his left hand and only used his right hand to gently support the ball as he shot.
"I'm able to support the basketball, but I'm not allowed to catch the basketball or dribble it just yet," said West. "It's getting there. Every day it feels better. Obviously I'm able to get some work in, so that's positive. So I'm expected to get back soon. That's what I want to do, that's what's going to happen. I'm still waiting for confirmation to be able to dribble the basketball, lift things. [The brace] can be deceiving right here because I'm dominant left when I shoot anyway. I'm just supporting the basketball and I've got a pretty sturdy brace on. But once I take [the brace] off the wrist is still weak and sore. But it's getting there. Every day feels better."
While West has shied away from putting pressure on his right hand on the basketball court, he has felt jabs of pain while trying to complete everyday tasks around the house.
"It's little things around the house, going to the grocery store and trying to carry both grocery [bags] in the house, you realize you can't pick a bag up or try to turn a doorknob and you can't get it to turn all the way," said West. "A few times I forgot, you know, the wrist is broken. I try to get up off the couch and put pressure on it and it reminds you real fast. Pain is a hell of a reminder."
West reaffirmed that he's still on schedule with the three-month timetable that some teammates suggested for his return, and he could begin working on catching and handling a basketball as early as next week. In the meantime, West, who broke the wrist while falling to the floor after converting a layup, has taken the time to search for ways to avoid future injuries.
Hence, the YouTube research. Then there's the rice buckets.
West, one of the hardest working members of this Celtics team, attacked his rehab process vigorously, working with a bone stimulator as many as four times per day. He also began engaging in a somewhat obscure exercise that he found himself quite fond of.
"I went to Home Depot up around the corner, got me a bucket, and I stopped at the grocery store and got me a whole bunch of rice. I filled up the bucket, and they're saying just grab it," West explained, demonstrating for members of the media by making a jabbing motion with his left hand. "It worked, too."
West admitted he isn't fond of the bone stimulator, preferring to heal naturally instead. That's where his rice comes in to play. "Got to get the rice in," he said.
West is still aiming to return to action before the All-Star break in February, even if that means just practicing with his teammates again. Once he returns to game action, expect to see some type of protection -- be it a different brace or wrap -- around the right wrist, at least for a while.
"I'm going to wear something until I'm comfortable not wearing anything at all," West said.
Greg Payne is a student intern for ESPNBoston.com