WALTHAM, Mass. -- In theory, Glen Davis the starter and Glen Davis the sixth man should be the same player. But that's not the way it played out when Davis spent a recent nine-game stretch filling Kevin Garnett's starter shoes and it showed why Celtics coach Doc Rivers does everything in his power to keep Davis in that reserve role.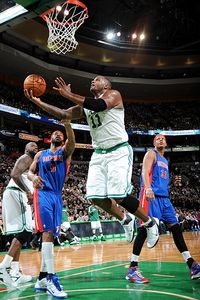 Brian Babineau/NBAE/Getty
Glen Davis gets to the rim against the Detroit Pistons.Off the bench, Davis instantly injects the Celtics with energy, and often appears more willing to make the hustle plays, such as diving for loose balls or stepping in front of opposing players and drawing charges. His success in these areas thrust him into the discussion for the NBA's Sixth Man of the Year award.
As a starter, Davis shied away from some of those responsibilities, and he became surprisingly geared towards making his biggest impact on the offensive end of the floor. Before Garnett returned to the starting lineup Monday, Davis had taken more shots in the month of January than both Paul Pierce and Ray Allen (they of the illustrious 20,000-point club). Davis became the target of criticism for both the number of shots, and the types of shots, he was taking.
In the two games since Garnett's return, Davis has reverted to being his old award-caliber self. On top of averaging 13.0 points and 5.0 rebounds in the two contests, he was back to being a game-changer for all the right reasons. He played tremendous defense on Magic center Dwight Howard in the final five minutes on Monday's win, and he was credited with his league-leading 34th charge of the season Wednesday night against the Detroit Pistons.
""I thought Baby back in his spot was great," Celtics coach Doc Rivers raved earlier this week.
After practice on Thursday afternoon, Davis, who spent extra time with big-man coach Roy Rogers after the session and was the last player off the court, admitted he didn't play within himself as a starter.
"I got out of myself and tried to be something else," Davis said." That's not how it works. You have to be yourself. Play the same way you play, do the same things you do. Yeah, I probably had a couple good games, but as for an all-around game, the way I know I can play, I didn't bring it. Now, being on the bench, you're back to the same mentality, just going out there and being you.
"It's all mental, you know? It's the way you approach the game, and I was kind of too hard on myself when I was starting. Being hard on myself, I didn't play in that relaxed flow... That's what I do when I come off the bench, I just go out there and play. I kind of put a lot of pressure on myself, stuff like that."
Davis said he did not discuss his role as a starter with Rivers, mostly because his role and responsibilities were not expected to change very much, even though they did.
"We didn't really have conversations about my role as far as when Kevin goes out, because my role is still the same," said Davis. "I still do the same things that I do and that's what I didn't do. I wasn't the player that I was. So, I struggled out there some nights, shooting, shooting percentages and things like that. It's a learning step. You're always learning, it's like four years, you're still learning. I'm just trying to learn more and more and more, because at the end of the day you always want to be a starter in your career.
"I got a taste of starting in the playoffs [in 2009 for the injured Garnett]. It was different, but my mentality was different. I kind of changed my mentality. I wasn't me, so I just kind of learn and just know next time when I get the opportunity to start, I'm just gonna be me."
In the meantime, Davis, at home off the bench, will continue to try and cement himself as a legitimate NBA contributor and doesn't lack for motivation.
"I've always had to prove myself -- I'm an undersized power forward," he said. "Everybody labeled me as an overweight guy. People think I'm too big, people think a lot of negative things about me. So I always have the motivation when I play, in spite of what other people say. I just try to go out there and play my game, but at the same time, know what [I'm] playing for."
For the season, Davis is averaging 12.6 points, 5.3 rebounds, and 1.3 assists per game. For a Boston bench in constant flux, he has been a rock of consistency when operating with the second unit. So much so that he can quiet a lot of those naysayers in April when votes are tallied for that Sixth Man of the Year award.
Greg Payne is a student intern for ESPNBoston.com