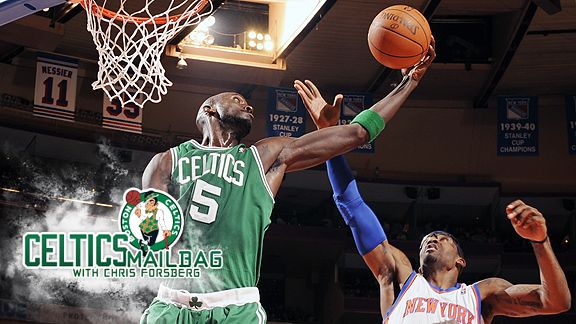 Lou Capozzola/NBAE via Getty Images

Kevin Garnett's return has Boston streaking again.

The Celtics make the turn to the back nine of the NBA regular season Friday night when they welcome the Utah Jazz to TD Garden to cap a six-game homestand. With half of its 82-game slate complete, Boston boasts a glossy 32-9 record -- the best mark in the Eastern Conference -- and has positioned itself well as the jockeying begins for playoff seeding.
Most impressively, the Celtics have done it amidst a never-ending flurry of injuries, which leaves coach Doc Rivers wondering what his team's true potential is when -- or maybe "if" is the better word -- his team can get healthy.
"Record-wise, obviously, I'm happy," Rivers said before Wednesday's win over the Detroit Pistons. "You always think you should have won more games. But you never count the ones you probably should have lost, you only count the ones you probably should have won. So I'm happy that way, but we don't know yet, team-wise, [because] we haven't really had [a healthy roster] and I don't know how much that will impact us later.
"You just want to keep getting better and we see small signs of that, at least with our second unit. With guys out, we've never had the chance to work [at full strength] so far, and that's the only area of concern for me. We really haven't gotten the second unit as a group yet. All that missed time, I don't know what that will do to us later."
Rivers isn't the only one with questions. In our midseason mailbag, we tackle the five most commons questions we've heard from fans in recent days (non-Rasheed Wallace-related questions, at least):
Click HERE to read this week's Celtics Mailbag.