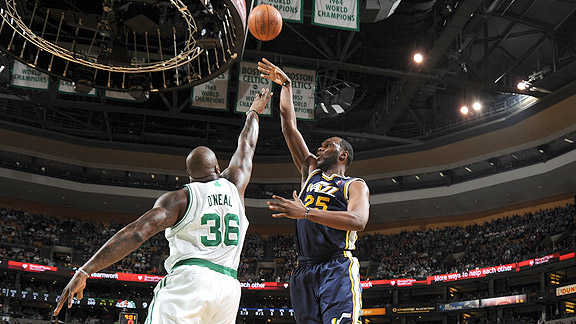 Brian Babineau/NBAE/Getty Images
Old friend Al Jefferson puts up a shot over new friend Shaquille O'Neal.BOSTON -- Utah's visit to the TD Garden Friday night marked the fourth time Al Jefferson has played in Boston since the Celtics traded him to the Minnesota Timberwolves, along with four other players and two draft picks, in exchange for Kevin Garnett during the summer of 2007. But unlike his previous three visits, it was largely a forgettable performance for the Jazz center.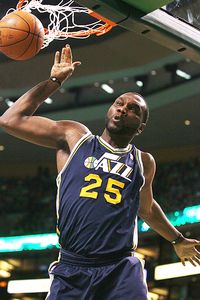 Elsa/Getty Images
Al Jefferson made his first shot ... then went ice cold.Jefferson, who entered the game averaging 16.9 points and 8.8 rebounds, was limited to just seven points on 1-of-11 shooting to go along with five rebounds, four assists, and two blocks over 25 minutes in Utah's 110-86 loss.
Friday's results were drastically different from his previous three visits to Boston as a member of the Timberwolves, in which Jefferson averaged 23 points, nine rebounds and two blocks while shooting 56.6 percent from the field. After Friday's tilt, Jefferson downplayed the idea that nerves played a role in his poor offensive performance.
"It's my fourth time playing back in Boston. There [weren't any] nerves," he said. "I just missed shots. It's just one of these nights. I had good looks. I had my shots and I missed them."
The Celtics selected Jefferson with the 15th pick in the 2004 NBA draft after the 6-foot-10 big man averaged over 40 points per game during his senior season at Prentiss High School in Mississippi. He went on to play three seasons in Boston before he was traded to the Minnesota Timberwolves along with Ryan Gomes, Sebastian Telfair, Gerald Green, Theo Ratliff, and two draft picks for Garnett. He spent three more seasons in Minnesota, the second of which was cut short when he tore the ACL in his right knee in February of 2009. During the offseason after the 2009-2010 campaign, when it was clear Minnesota would still be in a rebuilding phase for some time, the Timberwolves sent Jefferson to Utah, in exchange for two first-round draft picks and center Kosta Koufos.
For the first time in his career, Jefferson found himself on a contending team, with a well-tenured and Hall-of-Fame coach in Jerry Sloan and one of the NBA's elite point guards in Deron Williams.
His past was a still a part of him, however, and it seemed as though Boston had left as big of an imprint on Jefferson as he had left on it. During his three seasons with the Celtics, Jefferson started out as a promising young rookie and grew into a player that seemed destined for superstar status.
Celtics fans loved his winning smile and dizzying array of low post moves that most NBA big men did not possess. His game was a throwback to a previous decade, and his dazzling play in the paint had arguably not been witnessed in Boston since the great Kevin McHale. Ironically, it was McHale who was calling the shots in Minnesota when Jefferson was traded there. Jefferson played for the Celtics during a time when the future was more promising than the present, and he, with his immense talent and will to prove himself amongst the elite, became something of a living symbol of the greener pastures that surely awaited Boston down the road.
The Celtics, and their fans, knew what they were giving up in Jefferson when the trade went through, and the team's 17th championship, which was won in Garnett's first season as a Celtic, certainly validated the decision. Yet whenever Jefferson returns to Boston, even four years later, it's cause for reflection, as evidenced by the members of the media who waited nearly an hour to speak with him for seven minutes prior to Friday's game, or the standing ovation he received from the Garden crowd when he was introduced as the Jazz's starting center.
"It's always going to be a great thing [coming back to Boston]," said Jefferson. "Different in a good way, coming back to where I first started. This is the team that gave me my first job in the NBA, and for that I will always have the utmost respect for this team."
Jefferson said he has maintained relationships with a number of his former teammates, such as Kendrick Perkins and Doc Rivers, his first ever NBA coach, who was instrumental in his development early on in his career.
"We're still good friends, we always text each other and call each other a lot during the offseason," Jefferson said of his current relationship with Rivers. "He always put[s] a bug in my ear every now and then. It's still good to hear from him [because] he was my first NBA coach."
Rivers was answering a question about Jefferson before Friday's game, noting the two "text and talk every once in a while," when he spotted Jefferson coming off the court after warming up. Without missing a beat, Rivers shouted, "Al Jefferson is the ugliest..." as Jefferson passed by shaking his head and laughing.
"We're still very close," said Rivers. "As you can see."
In an effort to help Jefferson realize the type of potential he had, Rivers once lent him a tape of Moses Malone, a Hall-of-Fame center/forward and three-time league MVP, who, like Jefferson, also made the leap straight to the NBA from high school.
"[Rivers] asked me one day in practice, did I know who Moses Malone was, and I was like, 'No,'" explained Jefferson. "So the next day he gave me a video and I went home and watched it -- I still got the video as a matter of fact. I still watch it to this day, I still have it. And I watched the video and I was like, 'Wow, not only [did I look] like the old Moses Malone, I didn't realize how great of a player he was.' Doc was the one who pointed that out to me."
Said Rivers: "I wanted him to play like [Malone]. I thought, rebounding-wise, and even some of his post moves -- Moses was unorthodox. I think Al is that way as well, as you can see. I thought it was a great guy for him to watch, especially how hard Moses plays."
Despite Minnesota posting a combined record of 61-185 during Jefferson's time there, he holds no ill-will towards his former team, and is actually appreciative of them sending him to a club that has a chance at contending in the Western Conference.
"It was just a learning process," Jefferson said of his time with the Timberwolves. "I knew that we weren't going to win [a] championship. When I first got there I knew it was a young team and it was a rebuilding stage. My hat goes off to them because they were the ones that put me in the situation I'm in now. They could have traded me anywhere, know what I mean? They wanted to see me do well, and I thank them for that."
Considering he has played in only one NBA season in which his team has posted a winning record (the Celtics went 45-37 his rookie year), Jefferson is that much more appreciative to now be in Utah.
"I love Utah, [it's] my new home right now," said Jefferson. "It's just a great opportunity, every time I step on the court I know I have a chance to win games...It's a wonderful situation, a wonderful offense for me. Coach Sloan has been amazing and [Deron Williams] is one of the top point guards in this game and makes my job easier. I couldn't ask for [anything] else."
Jefferson arrived in Utah surrounded by much more talented teammates compared to who he played with in Minnesota, and with that added talent around him came the need to adjust his game somewhat, seeing as he was no longer going to be the sole focal point of his team's entire offense.
"Well I think that was to be expected," Sloan said of Jefferson's pedestrian start to the season. "We do some different things that he probably was not used to, and I think he's still working to learn to use our offense a little bit more to where [it] can hopefully help him. He's done well. He's played hard, he's worked hard, and hopefully he'll continue to make himself a better player."
If Jefferson brings to Utah the same work ethic he displayed during his time with the Celtics, he shouldn't have any trouble adapting to Sloan's system. As a result, it shouldn't be long before Jazz fans are as excited about Jefferson as Celtics fans were four years ago.