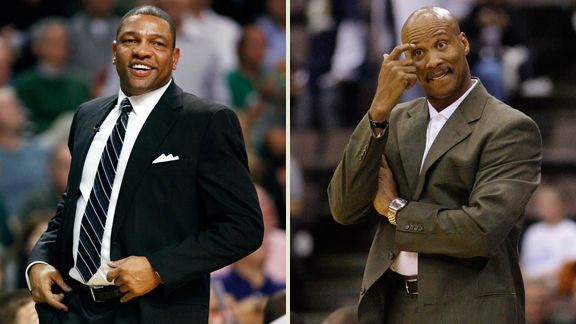 AP Photos
All tied up: Doc Rivers rocks the neckwear, but Byron Scott goes blazer only.A shorthanded Celtics squad got back on the practice court Monday afternoon. Even with only 10 players available, the team got in a quality session in advance of Tuesday's visit from the Cleveland Cavaliers. A look at Monday headlines:
--RIVERS FEELS SCOTT'S PAIN IN CLEVELAND--


In the days following a loss to the Los Angeles Lakers in Game 7 of the NBA Finals last June, Celtics coach Doc Rivers famously (albeit unknowingly) sent a call from President Barack Obama to his voice mail, which tells you all you need to know about his desire for consolatory chitchat. So imagine Rivers' vexation when his cell phone buzzed virtually nonstop for roughly a month in early 2007. Like Obama, those dialing were well-intentioned, hoping to impart some friendly 'keep your head up' advice as Rivers and the Celtics endured a franchise-worst 18-game losing streak from Jan. 7-Feb. 11. "It's hell, everybody is calling you," Rivers said after Monday's practice, when the Celtics prepared for Tuesday's visit from the Cleveland Cavaliers, a team that has lost its last 17 games.
--PRACTICE REPORT: SHAQ LIKELY OUT 2 GAMES; DANIELS 50/50 VS. CAVS--
Celtics center Shaquille O'Neal (hip) and reserve swingman Marquis Daniels (family issue) sat out Monday's 75-minute session and, while coach Doc Rivers dubbed the latter "50/50" for Tuesday's game against the Cleveland Cavaliers, it looks like O'Neal will miss at least the next two games. O'Neal tweaked his right hip during the first quarter of Friday's win over the Utah Jazz. He did not travel with the team for Saturday's loss in Washington and Rivers suggested the team will not take him on the start of a four-game west coast road trip later this week.
--RECAP: NETS RALLY TO EXTEND CAVS' LOSING STREAK--
The Cavaliers have lost 21 straight road games, matching the team record set from Jan. 13 to April 14, 2003. Their last road win came in New Jersey on Nov. 9. "It's tough to take the loss because I thought our guys played hard enough to get the win," Cleveland coach Byron Scott said. "We have to keep playing hard and applying all the things we talked about at both ends of the floor. We have to know it's going to work out for us, we're going to have a breakout game. Right now we're losing some of these battles but in the long run we'll hopefully win the war."