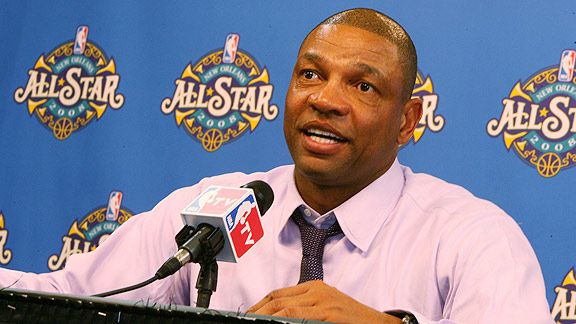 David Sherman/NBAE/Getty Images
The last time Doc Rivers coached the East All-Stars, Boston won a world title.How are NBA All-Star coaches selected? The league sets a cutoff point (this year it's Feb. 6) and the coach (and his staff) of the team with the best record in each conference earns the right to be on the All-Star bench.
The Eastern Conference-leading Celtics (33-10) will play seven more games before that date, but coach Doc Rivers already boasts a 2.5 game cushion on the field and, barring a bumpy west coast trip, could be returning to the All-Star sideline for the annual showcase.
The Heat and coach Erik Spoelstra (2.5 games back) , as well as the Bulls and coach Tom Thibodeau (3 games back), are likely to provide the only competition for Rivers. Both Atlanta and Orlando sit five games back and, while it's already unlikely either team could make up that much ground, Magic coach Stan Van Gundy is ineligible after coaching the East All-Stars last season (when Boston's post-Christmas stumble allowed the Magic to move to the top of the conference).
With a six-game cushion over the rest of the Western Conference, San Antonio Spurs coach Gregg Popovich locked up his spot as West coach after the Spurs' triumph over Golden State on Monday. The 2011 NBA All-Star game will be played Sunday, Feb. 20, at the Staples Center in Los Angeles.