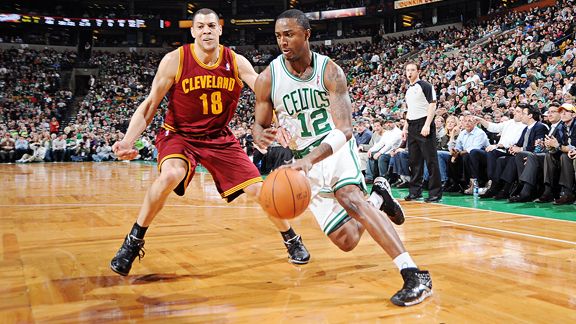 Brian Babineau/NBAE/Getty Images
Von Wafer drives to the basket Tuesday vs. the Cavaliers.BOSTON -- When the Boston Celtics signed Von Wafer to a partially guaranteed contract worth the veteran's minimum this offseason, the general consensus appeared to be that the C's were adding a veteran 3-point shooter.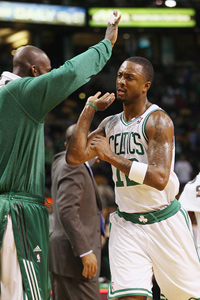 Elsa/Getty Images
Kevin Garnett greets Von Wafer as he comes off the floor.Go ahead, Google it. A search for "Celtics sign Von Wafer" brings up links with headlines such as: "Celtics sign 3-point shooter Wafer", "Celtics sign Von Wafer to be designated gunner off the bench", and "Celtics add shooter in Von Wafer." No headlines proclaimed him as a player who aggressively attacks the rim off the dribble, which is interesting, considering Wafer himself tabs that as a key component of his overall game.
"I love to get in there, try to create," Wafer said after the Celtics' 112-95 victory over the Cleveland Cavaliers on Tuesday, in which he scored 10 points in a season-high 22 minutes. "That's the most important thing. If you can get to the basket, you can create for yourself, as well as others. That's what I try to do in my game."
Wafer's game this season has been predicated more on driving to the basket than on converting 3-point field goal attempts. Despite playing limited minutes thus far, Wafer's greatest success this season has arguably materialized when he has put the ball on the floor and made his way to the hoop, as opposed to when he has taken shots from behind the arc.
Why exactly was Wafer labeled as a 3-point shooter and not much else by both media outlets and fans alike heading into the season? Two seasons ago, as a member of the Houston Rockets, Wafer contributed his most productive campaign of his career, helping the shorthanded Rockets make it to Game 7 of the Western Conference semifinals against the (eventual NBA champion) Los Angeles Lakers. For the season he finished with averages of 9.7 points over 19.4 minutes per game and, perhaps most importantly, he finished the season having shot 39 percent from 3-point nation, a figure well above his career average of 32.7 percent.
That statistic appeared to stick out more than any other as people were attempting to assess his game. In the one NBA season in which he played meaningful minutes, he ended up shooting a very respectable 3-point percentage, which automatically earned him the label of a 3-point specialist. So far this season, Wafer's averaging only 8.2 minutes per game, and is shooting just 27 percent from beyond the arc.
Despite the poor percentage from beyond the arc, Wafer hasn't lost confidence in his ability to shoot from deep, as he's averaging one 3-point attempt per game this season, his most shot attempts from any spot on the floor, according to HoopData. Meanwhile, he's averaging 0.6 field goal attempts at the rim this season, his next highest percentage of field goals attempted from that spot on the floor, which helps illustrate his tendency to put the ball on the floor.
Those numbers also fall in line with his shot selection while he was a member of the Houston Rockets. During the 2008-09 season, Wafer averaged 2.6 attempts from beyond the 3-point line, and an almost identical 2.4 attempts at the rim, which suggests he balanced shooting 3's and getting to the rim very evenly. Earlier this month, Rockets coach Rick Adelman maintained that Wafer did more than just shoot 3's while he was with Houston.
"He was a streak shooter, but he could attack," Adelman said prior to Boston's loss to the Rockets on Jan. 10. "He really attacked the basket, too. He was very good in the open court for us.
"He played very well for us. He was a real spark off the bench. He won a lot of games for us. He's a guy that, once he gets comfortable, he's a real threat. I think he's going to help [the Celtics] eventually. Obviously they have a lot of veterans and he hasn't seen the time that we needed him to play when we had him."
Wafer admitted after Tuesday's game that it has been difficult at times playing such scattered minutes.
"Well it's tough, but it's what it is," he said. "It's the hand I was dealt. I just try my best. I just try to do the best I can, that's all I can do. It's tough, mentally. I just try to stay into it."
Wafer's chances of landing more minutes for the club appears to revolve more around his efforts on the defensive end than his production on the offensive side. Wafer averaged 5.3 minutes per game during the month of November, but saw that figure climb slightly to 7.3 minutes in December. So far in the month of January, Wafer is averaging his most minutes yet -- 12.7 per game. The reasons? Injuries to other players, such as Delonte West, have undoubtedly played a part, but Wafer has also seems to have bought into the Celtics' plans defensively, earning the praise of head coach Doc Rivers at times along the way.
"Well, we give him a lot of [grief] about it because -- and we still give him [grief] -- I think on Media Day he said, 'You know, I'm an offensive player," Rivers said following a 96-93 triumph over the Minnesota Timberwolves on Jan. 3 in which Wafer totaled 10 points, six rebounds, and a steal.
"That was his quote. But he's proven to us that he's more than that. I think a lot of players have that in them, they just don't know it sometimes. We're getting it out of him, and he's actually enjoying it. It's funny to watch him -- he gets excited about defensive stops now. And that's great, because I get excited about that as well."
Greg Payne is a student intern for ESPNBoston.com