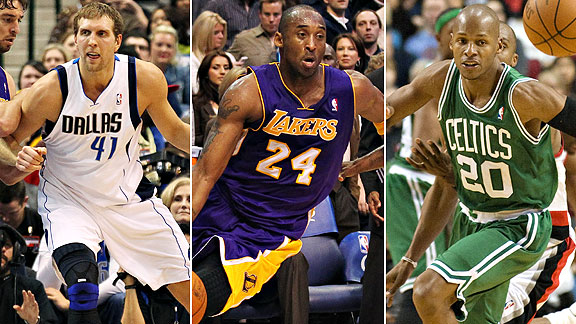 US Presswire
What do these three have in common? They've all managed to put off The Change.ESPN.com's Bill Simmons examines a handful of NBA players defying the the aging curve, with a focus on three players in Sunday's Celtics-Lakers showdown in Paul Pierce, Ray Allen, and Kobe Bryant. Here's a glance at the Boston players:
Pierce: This has been his "Linda Hamilton in 'Terminator 2'" season -- he showed up in spectacular shape and swayed his Hall of Fame chances. With Pierce's shooting touch, high basketball IQ and herky-jerky half-court game, I see him playing at this level for two more seasons after this one, followed by a three-year drop-off and retirement ... and if it plays out that way, he's a serious threat to retire with 27,500 points (moving him into the top nine all time) and official John Havlicek 2.0 status. It's true. Insert "lame joke from a Lakers fan saying that Springfield needs to get the wheelchair ready" here.

Allen: I hope you enjoyed the "Reggie Miller versus Ray Allen" debate. It's been over for a year. Right now, Ray ranks second in 3-pointers made (2,543, just 17 behind Reggie; nobody else is within 800 of them) and second in 3s attempted (6,388), only he's made 40 percent of them (one of 40 players who can say that). He's also the fourth-best free throw shooter ever (89.4 percent). Given his phenomenal work ethic, we can safely say 25,000 points, 3,000 made 3s and a 45-40-90 career percentages are in play. I just don't think we're seeing that again. His extended prime made him the most efficient shooting guard who ever lived; throw in his clutch shooting numbers (see sidebar) and it's been a wildly underrated career. Other than Reggie, you know who the biggest loser is here? Sam Presti, who made a totally defensible trade when he was rebuilding Seattle around Kevin Durant in 2007 (Allen and the rights to Glen Davis for the rights to Jeff Green, Delonte West and Wally Szczerbiak's expiring contract) and never imagined he was giving up five or six more killer Ray Allen seasons. I can't wait for the "40 for 40" documentary about the 2007 draft in 10 years.
Click HERE to read the full story.