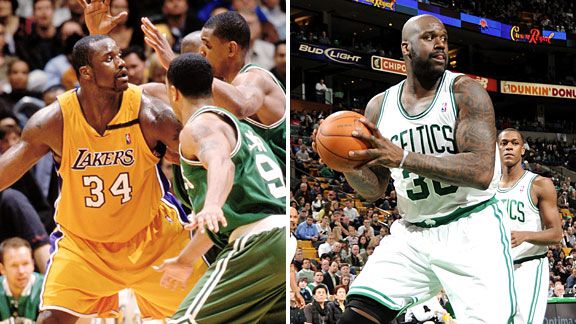 Getty Images
Shaquille O'Neal in Lakers' gold and Celtics' green.There's never a shortage of storylines when the Boston Celtics and Los Angeles Lakers do battle. But that's especially true Sunday, as the two meet for the first time this season -- and the first time since last year's NBA Finals. ESPN.com's Jeremy Lundblad examines three factors that make Sunday one of the most anticipated games of the regular season, including:
1. Shaq's wearing green in LA: Shaquille O'Neal knows all about this rivalry. Back in his LA days, O'Neal faced the Celtics 10 times, averaging 29.9 points per game and 15.1 rebounds. He shot an incredible 67.1 percent from the field in those games, as the Celtics countered with the likes of Mark Blount, Tony Battie, Vitaly Potapenko and even Dino Radja. In those years, Shaq averaged more only against the Nets and the Magic, his former team.

2. The road to home-court advantage: Think this is just another game in January? Don't underestimate the significance of Sunday's matchup for home-court advantage in the playoffs. It's no sure thing that these two teams would meet in the Finals. With the best record in the NBA, the Spurs certainly will have their say down the line. Either way, it's these early head-to-head matchups that often determine who hosts Game 1.

3. How old is too old? Jerry West made headlines in Los Angeles last week by saying the Lakers were "getting long in the tooth" -- blaming their age for a lack of defensive consistency. "If there's a loose ball now, how often do they get to it? The reason you can't play defense is because you can't," West said to a group of Orange Country car dealers. Ten players on the roster are in their 30s, including four starters and the sixth man. The Lakers are indeed old. But if the Lakers are getting long in the tooth, the Celtics must be losing their teeth.
Click HERE to read the full story.