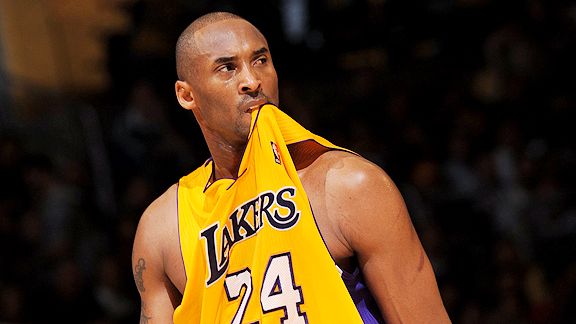 Noah Graham/NBAE/Getty Images
It's OK Kobe, you can talk about the Celtics now.The Los Angeles Lakers did the best they could to limit the hype around Sunday's showdown against the Boston Celtics as co-captain Derek Fisher told the team after Thursday's practice not to entertain questions about the Celtics until after their game against the Sacramento Kings on Friday.
"It's just the right thing to do," Jackson said about the silent treatment. "We're about playing the game that's right now."
After a disappointing loss to the Kings on Friday, the Lakers were finally able (and willing) to look ahead.
ESPN Los Angeles' Dave McMenamin provides the initial look-ahead:
Once the Sacramento game was over and the Derek Fisher-issued gag order about the Celtics was lifted, the Lakers could offer their thoughts on the Boston team that they've gone 9-8 against overall in the regular season and postseason combined since the start of the 2008 Finals.

"They had a tough one [Friday] as well," said Bryant, referring to the Celtics loss to the Suns in a game where both head coach Doc Rivers and forward Kevin Garnett were ejected. "I'm sure they'll be looking to come in on Sunday and seek a little redemption, but we'll be ready to."

When asked what the biggest challenge Boston presents is, Bryant did not point to any member of Boston's Big Three of Garnett, Paul Pierce or Ray Allen.

"It's [Rajon] Rondo," Bryant said. "He's the catalyst, he makes things go at both ends of the floor. Kevin, obviously he's the captain defensively, but Rondo's all over the place with his play-making ability and I think that's the biggest challenge."
On the Celtics' side, the team was still fuming over Friday's technical-fest against the Suns, but Rivers did talk about moving forward in general.
"Well we just lost one game," said Rivers. "So we've lost one game and now we go to LA and it's going to be a very difficult game. It would've been a difficult game if we had won. We just have to try to get our rest, get in tonight, hopefully before 4 or 5 a.m. and see if our guys can get some sleep and then wake up and play a 12:30 game. We knew this would be a tough stretch with the amount of games in so little time before the season started. No one's going to feel sorry for us. We have to go out and do it."