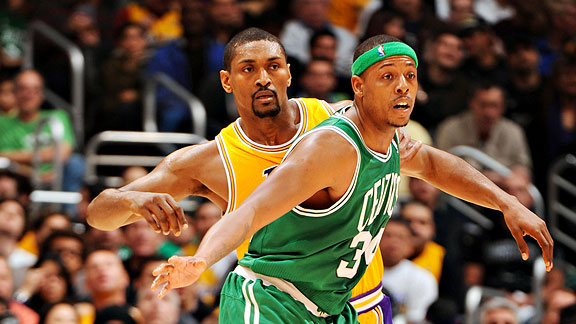 Andrew D. Bernstein/Getty Images
Everyone from his Celtics teammates to Ron Artest jumped on Paul Pierce's back Sunday.LOS ANGELES -- Rapid reaction after the Boston Celtics defeated the Los Angeles Lakers 109-96 Sunday afternoon at the Staples Center.

HOW THE GAME WAS WON
Paul Pierce produced another monster effort in his backyard, connecting on 11-of-18 shots for a team-high 32 points with five rebounds, three assists, a steal and a block over 40 minutes. Kevin Garnett (18 points, 13 rebounds) and Rajon Rondo (10 points, 16 assists) added double-doubles for a Boston team that earned the tiniest measure of revenge after dropping Game 7 of the Finals here in June. Kobe Bryant poured in a game-high 41 points on 16-of-29 shooting for the Lakers.
TURNING POINT
Clinging to a two-point lead late in the third frame with the second unit being integrated onto the floor, Nate Robinson drilled a 3-pointer with nine seconds to play in the quarter. Early in the fourth frame, both Robinson and Ray Allen splashed trifectas, helping Boston push its lead to nine with 10:48 to play and Boston fended off a Lakers' charge before making it a laugher late (fans pouring out of the exits with 1:29 to go).
STAT OF THE GAME
The focus even before Sunday's game was on rebounding and Boston finished with a whopping 43-30 advantage on the glass, Lakers forward Pau Gasol registering a team-high seven boards on the night, nearly half of Garnett's total.
UNSUNG HERO
Something about the Lakers brings out the best in Robinson. Coming off a pair of rough outings (combined six points on 2-of-11 shooting, including 0-for-7 beyond the arc), Robinson responded by chipping in 11 points on 4-of-7 shooting with with a trio of 3-pointers over 14 minutes off the pine.
WHAT IT MEANS
If nothing more than clearing a bit of a mental hurdle, the Celtics began the process of moving on from June's devastating postseason collapse. They did so by dominating the area that plagued them most in Games 6 and 7, owning the glass while producing a nice win. Ultimately, it won't mean much. They can't savor this one too much as it's just No. 47 of 82. But coming into the enemy's building and showing that they've learned from last summer's transgressions is a big step forward for these champinship-driven Celtics.