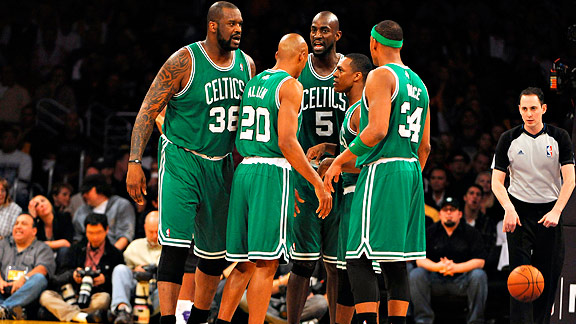 Andrew D. Bernstein/Getty Images
The Celtics showed the Lakers Sunday that, right now, they're the better team.LOS ANGELES -- Everything you need to know after the Boston Celtics defeated the Los Angeles Lakers 109-96 Sunday afternoon at the Staples Center:
Rapid Reaction | Game Recap | Box Score
--FORSBERG: DIFFERENT THIS TIME AROUND--
The Boston Celtics' 109-96 victory over the Los Angeles Lakers Sunday afternoon at Staples Center didn't erase any of the pain from a Game 7 defeat here seven months ago. But it provided the latest -- and maybe most convincing -- indication that these Celtics might just be able to atone this summer. Returning to the scene of a crime, where Banner 18 was snatched from its hands last June, Boston didn't just topple the defending world champions, it did so by dominating the areas that caused its title dreams to be dashed.
--ADANDE: C'S SHOW COHESION THE LAKERS LACK--
What we do know is that the last two times Perkins lasted an entire game in Staples Center (Sunday and Game 2 of the NBA Finals) the Celtics walked out with a victory. We know the Celtics (36-11) are four games ahead of the Lakers (33-15) in the loss column in the race for home-court advantage in the NBA Finals. Whether you look at the standings or watch the way the play together, the Celtics are the better team at the end of January.
--SHELBURNE: CELTICS ARE THE BETTER TEAM--
It was almost easier losing to Miami on Christmas Day. Easier to forgive, because the rivalry with Miami is still being created. Easier to forget, because the Los Angeles Lakers walked away feeling like they never really showed up. Kobe Bryant may have had a lot more public venom after the loss to the Heat, but no matter how much poise or patience the Lakers seemed to project after Sunday's 109-96 loss to the Boston Celtics, this one is going to be harder for everyone to swallow.
Be sure to check out both ESPN Boston and ESPN Los Angeles for complete coverage from Sunday's game. Here are some selected headlines:
* Postgame Notes: Bench-marked game for Robinson
* Pregame Notes: Rivers fine with $15,000 fine
* McMenamin: Gasol goes green in loss to Celtics
* Markazi: Bryant's shooting necessary, but not enough
* More: Celtics Blog | Land O'Lakers
Video Vault
Click HERE to watch all the video from Sunday's game, including clips with Paul Pierce, Kevin Garnett, Ray Allen, and Rajon Rondo.
Tweet of the Night
Short and sweet...