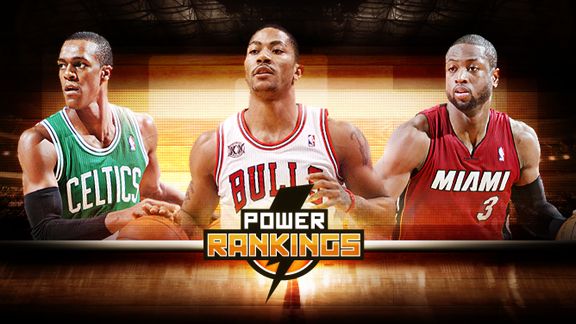 ESPN Illustration
The East is becoming a beast, but the Celtics still can't snare the top spot.The Boston Celtics remain at No. 2 in this week's ESPN.com NBA power rankings, unable to slip past a San Antonio Spurs squad that still boasts the league's best record. Writes curator Marc Stein: "Never overestimate one regular-season game. I'd be lying, however, if I didn't admit to giving deep thought to Doc's trusty line about his how "A" starting five has never lost a series after what the Celts just did in L.A.
In John Hollinger's daily computerized rankings, the Celtics jumped up a bit to No. 5 and are dangerously close to overtaking the Heat, but still trail behind the Spurs, Lakers, and Magic.
Over at NBA.com's power rankings, the Celtics also can't leapfrog the Spurs for the top spot. Writes curator John Schuhmann, "After splitting a pair of ugly games in Portland and Phoenix, the Celtics' offense looked pretty under the bright lights of Staples Center, the first of four straight big Sunday games. They host the Magic this Sunday and the Heat the Sunday after that. Then three or four of them head back to L.A. for the All-Star Game."