Thirty years later, a Larry Bird-Magic Johnson rookie card provides a flood of memories for ESPN.com's Scott Turken: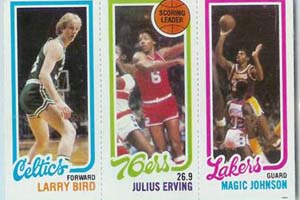 ESPNBoston.com
Larry Bird and Magic Johnson first found common ground on a 1980-81 Topps rookie card.
We all know the feeling of finding a modern version of buried treasure. It can be finding a $20 bill in a pair of jeans, a $100 bond that your grandparents bought at your birth, or one of those rare pieces of sports memorabilia in your basement that hasn't surfaced in years.

During a not-so-routine cleaning in my basement the other day, I had my own version of the glowing suitcase in "Pulp Fiction." The hard-plastic trunk was cracked, but in it, safe and sound, was the mother of all collectibles for a kid who grew up in the '80s: The 1980-81 Topps hoops card that features Magic Johnson and Larry Bird in their rookie seasons. To boot, it has the great Julius Erving between them.
Click HERE to read the full story.