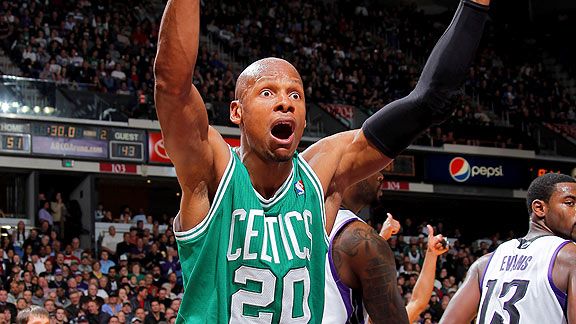 Rocky Widner/NBAE/Getty Images
Ray Allen is as surprised as anyone to find out the C's thrive when he scores 20 points or more.Thoughts and analysis after the Boston Celtics defeated the Sacramento Kings 95-90 Tuesday night at ARCO Arena:
--20 FOR 20 = A CELTICS WIN--
The Celtics have all sorts of fun stats about when this team is successful. For instance, Boston is 10-1 this season when it scores between 90-99 points and it is 21-3 when it outrebounds an opponent (both of which it accomplished Tuesday).
But there is only one true stat this season that guarantees success: When Ray Allen scores 20 points or more, the Celtics are 14-0.
On Tuesday, Allen connected on four 3-pointers while pouring in a team-high 22 points. He made 5-of-8 shots inside the arc, scoring 17 of his points in the odd quarters. Allen's 3-pointer off a hustle play that saw Kevin Garnett strip a ball-handler in the backcourt, Rajon Rondo chase down the loose ball, and Allen spot up for the key triple that put Boston out front, 65-64, with 3:54 to play in the third frame.
Allen's only points of the fourth quarter came on another trifecta, this one highlighted a 9-0 burst over less than a three-minute span and turned a tenuous one-point lead into a double-digit cushion with 5:49 to play.
--PACK YOUR BAGS, CELTICS' COACHING STAFF--
Comcast SportsNet Screenshot
Doc Rivers is headed to Los Angeles in late February.After the final buzzer Tuesday, Celtics captain Paul Pierce walked over and embraced coach Doc Rivers. While Pierce was probably happy to have emerged from this four-game west coast trip with a 3-1 record, his sly smile also suggested he used the moment to remind Rivers that he's Los Angeles-bound for the NBA's 60th annual All-Star game.
With Tuesday's win, Boston improved to 37-11 and ensured it will have the best winning percentage in the East by the All-Star cutoff date of Feb. 6. Rivers, who utilizes much of his free time to jet around the country to watch his kids' athletic endeavors, probably didn't want to spend four days in Los Angeles for what amounts to a star-studded exhibition, but his star-laden roster could include as many as four Celtics reserves (non-starters are selected by coach's vote and will be unveiled later this week).
What's more, good friend and Spurs coach Gregg Popovich will coach the West All-Stars. Rivers also coached the East All-Stars during the 2008 game in New Orleans, before Boston went on to claim Banner 17.
--RONDO PROVIDES A SPARK EVERYWHERE--
Comcast SportsNet Screenshot
Rajon Rondo shoves DeMarcus Cousins.Rondo wasn't just the team's spark plug offensively (he took a team-high 15 attempts, while scoring 17 points to go along with 10 assists and four steals over 30:59). When Kings rookie DeMarcus Cousins stood over Garnett Tuesday, Rondo marched over and shoved Cousins for not giving Boston's veteran forward more room to collect himself.
The incident started when Garnett leaped over Cousins, chasing a loose ball while spilling out of bounds trying to keep the ball alive. When Cousins didn't budge standing over a prone Garnett, Rondo rushed over and created some space with the push.
Rondo picked up his second technical of the season while standing up for Garnett (he also got tagged with a technical on Jan. 19 versus Detroit for yapping at referee Steve Javie during a timeout). But it was his aggressive on-court play that stood out to Rivers on Tuesday, as Rondo showed a fearlessness attacking the basket (one that's been dormant at times this season).
"We're staying on him, I'm trying to get him to get to the free throw line as much as possible," Rivers told reporters. "Just keep driving, keep attacking. My challenge is 10 [times] per game. I think the second half of the year, that's really important for him. Just see how many times he can get to the free throw line, because I think it'll be great for his confidence, it'll be great for our team's confidence, and we know when the playoffs start that's going to be something that he'll have to do."
--VEGAS, BABY!? NO, C'S EXPECT AN EXTRA DAY IN SACTO--
The Celtics had hoped to fly home after Tuesday's game in Sacramento and potentially beat the second leg of this wintry storm that is set to sweep through New England. But with so much of the country already enduring this storm's wrath, including lots of snow and ice across the Midwest, Boston instead planned to stay an extra night on the west coast.
"If we stay, we stay, which it looks like we're going to do," Rivers told reporters before Tuesday's game. "We would have preferred to go further East, just so we can get closer to our time zone. At the end of the day, we just need rest. So I told them let's just stay."
One potential location Rivers did rule out: Las Vegas. He certainly didn't like the potential distractions Sin City can provide, even if Boston doesn't play again until a Friday visit from the Dallas Mavericks.
"That was never an option," a laughing Rivers said when a reporter suggested Vegas. "I can guarantee you that."
It's the latest in a series of travel adventures for Boston. The Celtics endured a near-seven-hour flight to Portland to start the trip, then lost an hour coming back to Phoenix for the second night of a back-to-back, not landing until the wee hours of the morning.
Boston's initial attempt to get out of Phoenix was delayed by fog, forcing the team to travel to Los Angeles on its offday Saturday, rather than right after a loss to the Suns on Friday.
Click HERE to read more on Boston's travel woes.
--ONE FINAL SNAPSHOT--
Shaquille O'Neal had a pretty quiet night (3 points, 4 rebounds, 3 turnovers) over 15:47. With Kendrick Perkins logging 24:34 off the bench and totaling eight points and a game-high 10 rebounds, a flip-flop for the starting role could be coming sooner than later.
Which isn't necessarily a bad thing for O'Neal, who could thrive in a second-unit role, especially on a bench that needs a go-to post presence when the offense goes stagnant. But we'll miss moments like this...
Comcast SportsNet Screenshot
Shaq daps up Slamson, the Kings' mascot.