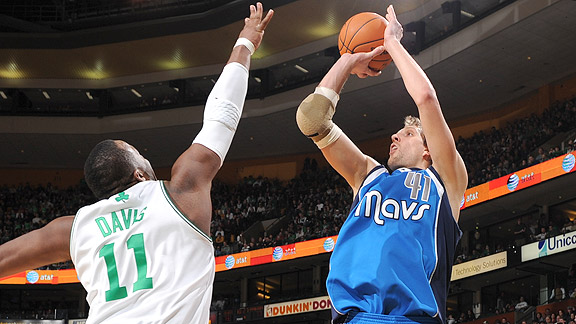 Brian Babineau/NBAE/Getty Images
Dirk Nowitzki shoots over Glen Davis last season.Maybe it's a good thing Dirk Nowitzki only visits the TD Garden once per season.
According to Elias Sports Bureau, Nowitzki's career scoring average in Boston (27.7 points in 11 career games) is the fourth-highest all-time (minimum 10 games). The three names ahead of him don't even need first names: Jordan (32 points per game), Abdul-Jabbar (30.7) and Chamberlain (29.7). Needless to say, some lofty company.
Nowitzki may have produced his finest effort in Boston last season, erupting for 37 points on 14-of-22 shooting over 44 minutes in Dallas' 99-90 triumph. The Celtics have never held Nowitzki to less than 18 points in Boston (2002 and 2009) and six times he's finished with 30 points or more here.
What's more, Nowitzki, a career 47.5 percent shooter, is averaging 50.2 percent shooting in Boston (105 of 209 overall) over those 11 visits.
For the 2010-11 season, Nowitzki is averaging 23.2 points, 6.9 rebounds and 2.5 assists per game in 39 appearances. The Mavericks are 31-8 when playing with him, but a mere 2-7 when he was out. Celtics coach Doc Rivers didn't hesitate to attach the MVP to his name.
"[The Mavericks] were in a slump because Nowitzki was out," said Rivers. "It's as simple as that. When he's healthy, they play well.
"You can make a strong argument for him as MVP -- him and [Chicago's] Derrick Rose are probably the two frontrunners, and [Miami's] LeBron [James]. [Nowitzki is] having a heck of a year."