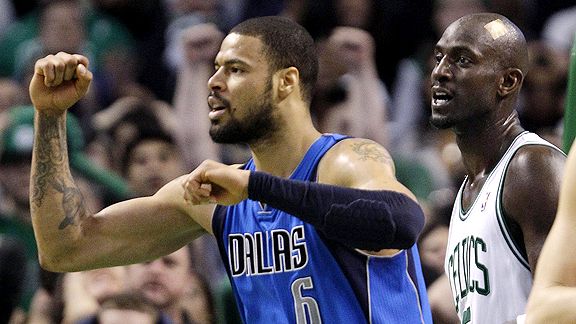 AP Photo/Stephan Savoia
The Mavericks had reason to be excited after Friday's win in Boston.BOSTON -- Rapid reaction after the Dallas Mavericks defeated the Boston Celtics 101-97 Friday night at the TD Garden:


HOW THE GAME WAS WON
Dirk Nowitzki scored a game-high 29 points (21 of which came after the intermission), while Jason Kidd hit a monster 3-pointer with 2.5 seconds remaining to lift the Mavericks to their latest quality road win. Ray Allen paced Boston with 24 points on 9-of-18 shooting, hitting a trio of 3-pointers, but missing one that could have put the game away in the final minute. Kendrick Perkins, making his first start of the season, added 13 points and 12 rebounds over 33 minutes.
TURNING POINT
The Celtics went scoreless over the final 2:43 of regulation, allowing Dallas to rally out of a six-point hole. Down a point with a chance to win, Kidd waited for Allen to sail by trying to defend a last-second 3-pointer, then calmly canned the straightaway bomb for the winning points.
STAT OF THE GAME
A lack of free throw attempts (7) plagued the Celtics in the first meeting in Dallas; Missed freebies (11 of 16) plagued Boston this time around.
UNSUNG HERO
For Boston, Marquis Daniels quietly produced 10 points against one of his former teams, hitting 4-of-6 shots over just 11 minutes of action... For Dallas, Northeastern product Jose Juan Barea stepped into a starting role and chipped in 11 points and three assists over 26 minutes.
WHAT IT MEANS
This is not the way the Celtics wanted to start off a tough five-game stretch that features four of the NBA's top 10 teams coming to Boston over the next 10 days (and a trip to Charlotte in the middle of it all). Boston should have put this away after an Allen 3-pointer put the Celtics out front by six with 3:17 to go. Instead, Dallas cranked up the defensive intensity that Boston usually produces and the Rajon Rondo's last-second lob to Kevin Garnett sailed a bit too high, sealing Boston's fate.