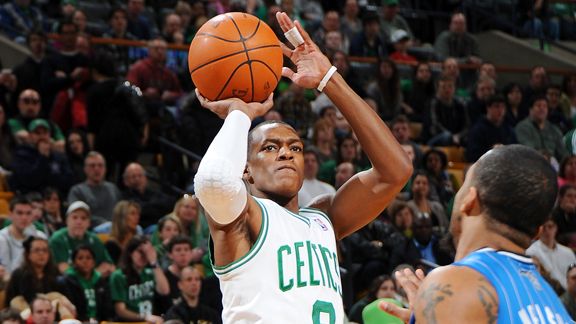 Brian Babineau/NBAE/Getty Images
Rajon Rondo helped Boston shoot down the Magic.BOSTON -- Rapid reaction after the Boston Celtics defeated the Orlando Magic 91-80 on Sunday afternoon at the TD Garden:


HOW THE GAME WAS WON
Rajon Rondo continues to show an aggressiveness he's lacked at times this season, attacking the basket at every opportunity Sunday while scoring a team-high 26 points on 9-of-15 shooting. Rondo spent a lot of time lying on the floor, the victim of some hard bumps, but that meant a lot of time at the line, where he hit 7 of 9 free throws. Paul Pierce overcame some shooting woes (4-of-11) to add 18 points and post a whopping plus-24 in the plus/minus category. Dwight Howard added game highs with 28 points and 13 rebounds over 44 minutes.
TURNING POINT
The Celtics carried a three-point lead out of halftime, but scored the first seven points of the third quarter in a mere 91 seconds and a Ray Allen 3-pointer from in front of the Orlando bench led Magic coach Stan Van Gundy to call an early timeout, with his team down 53-43 with 10:31 to go in the frame. Boston went on to hit nine of its first 10 shots in the quarter (a Pierce 17-foot jumper the only miss) while opening a 70-55 cushion.
STAT OF THE GAME
The Magic hoist a league-leading 25.8 3-pointers per game and had made 11 triples in each of the first two meetings between the teams this season. On Sunday, Orlando connected on a mere 3 of 24 triples (12.5 percent).
UNSUNG HERO
Glen Davis overcame a gruesome head bump while absorbing his league-leading 39th charge in the first quarter to register 11 points on 5-of-9 shooting over 24 quality minutes. Not only did Davis grab six rebounds, but he played inspired defense on Howard.
WHAT IT MEANS
The Celtics bounced back from Friday's loss to the Mavericks in strong fashion, dominating the Magic in the third quarter to win the rubber match of the regular-season series. What's more, they found a way to rally after an emotional moment when reserve swingman Marquis Daniels was taken off on a stretcher after injuring his neck early in the second quarter.