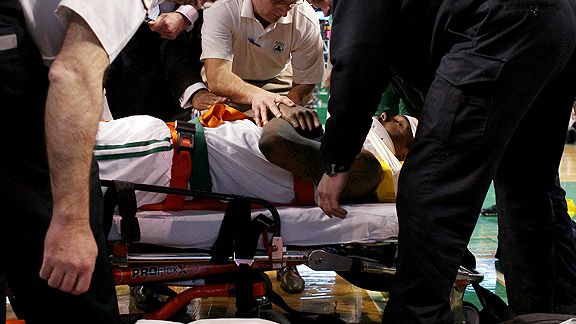 Elsa/Getty Images
Marquis Daniels is taken from the court on a stretcher Sunday.BOSTON -- For a team as close-knit as the Celtics, an injury to any player on the roster is enough to weigh heavily on the minds of teammates and take their focus away from the game at hand. But when Marquis Daniels suffered a bruised spinal cord during the second quarter of Sunday's 91-80 triumph over the Orlando Magic at the TD Garden, players rallied around each other and soldiered on.
The Celtics had already endured an ugly first quarter (4-of-14 shooting) and were staring at a seven-point deficit when Daniels suffered the injury with 11:01 to play in the second quarter. The game was stopped for nearly five minutes as team doctors and arena paramedics tended to Daniels, eventually taking him from the floor on a stretcher.
Rather than fade into the evening, the Celtics regrouped and forged ahead, outscoring Orlando 29-19 for the remainder of the second quarter to assume a three-point halftime lead. Encouraging reports on Daniels' health at halftime helped Boston motor away in the second half.
"That's where it was tough," Ray Allen said of the Celtics' refocusing after Daniels' injury. "If I was on the other team, I'm thinking, you know, it's a good time to take advantage and prey on the momentum that we have. But I think we started off slow, I think we had some shots we missed early. But, for the most part, we kind of gathered around each other and played."
In the huddle after Daniels' injury, coach Doc Rivers admitted it was difficult drawing up a play for his club to get them back on point.
"That timeout, even the players knew [it was] tough to draw up something, and I didn't," Rivers said. "I just told them to go play."
Rajon Rondo appeared to take that message to heart more than anyone else as the Celtics' point guard sparked the team's second-quarter scoring spree by aggressively attacking the rim and getting himself and his teammates open looks at the basket. Rondo had a hand in 14 of the club's 29 points over the rest of the quarter, and that's not including the passes he made that resulted in his teammates shooting free throws.
"It's sad to say that you have to wait for something like [Daniels' injury] to get a boost, but that's just how it is," Rondo said.
Shortly after the stoppage in play, Rondo converted an Allen steal and outlet pass into a transition layup, then returned the favor minutes later, setting Allen up for an easy left-handed layup down low. Less than two minutes later, Rondo blew past Orlando point guard Jameer Nelson on the right side, and tossed in a difficult right-handed layup off the glass -- a shot he had to release high and wide to avoid the impending reach of Magic center Dwight Howard. With four minutes left in the quarter, Rondo set up Allen on the right wing for the team's first 3-pointer of the game, which knotted the score at 34. Paul Pierce would cap the second quarter by knocking down two free throws, giving his club a 46-43 advantage at the break.
"I don't know if it's a coincidence that after Marquis [got] hurt that we kind of rallied together," said Pierce. "I guess it seemed that way, but ... usually when you see a guy get injured, teams use that as an excuse and have a letdown and kind of go through the motions for the rest of the game, worried about the guy that went down because you're worried about him. But it seemed like the complete opposite and I think we kind of fed off of it and it was kind of like, 'Let's do this for 'Quis.' I mean, that's what I saw, you know, it just seemed like our energy went up because I was on the bench at the time and I was watching and it just seemed like that's what started the run so we're happy that he's OK and, unfortunately, he probably gave us a spark."
Added injured guard Delonte West, who viewed Daniels' injury from the bench: "It kind of woke us up a little bit. We were sleepwalking through the first quarter mostly and then after the incident with Marquis, the team kind of rallied and pushed on."
Despite their ability to bounce back, Daniels' spinal injury undoubtedly shook the Celtics -- Pierce dubbed Daniels a "brother" and deemed this team as close as the 2007-08 club that won an NBA championship.
"Well this is a very close-knit team," Pierce said. "This is one of the closer teams, it kinda reminds me of the team in [2007-08]. It's like when Marquis goes down, it's like your brother; When Delonte goes down, it's like your brother. If you ever have a family member and something ever happens to them, you don't feel right. And we're around each other so much -- plane, bus, we even go to each other's houses -- so it's like we created this bond with one another and when something bad happens to him we all feel for him but the rest of us try and rally together, and that's what you kind of saw in those two injuries."
The Celtics received positive updates on Daniels at halftime, and their thoughts immediately shifted back to his condition as soon as their 91-80 victory over the Magic was secure.
"No player wants to be in that position," said Kevin Garnett. "No human being wants to be in that position. Difficult moment. Like Paul said, we got some good results, or some good news, opposed to what we were looking at, because it looked really bad. But I'm glad he's able, he's functional. So everyone put him in your prayers."
Greg Payne is a student intern for ESPNBoston.com