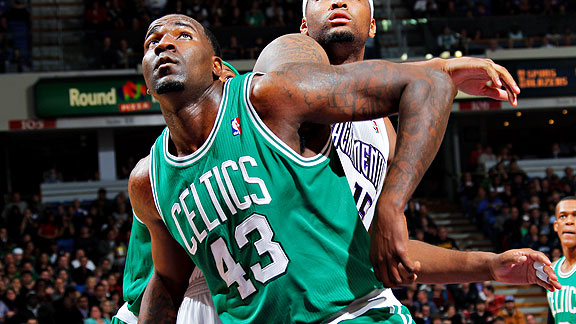 Rocky Widner/NBAE/Getty Images
Kendrick Perkins brought his hard hat since returning to the court.Kendrick Perkins played a season-high 35 minutes, 25 seconds in the Celtics' 94-89 loss to the Charlotte Bobcats on Monday night -- little more than 24 hours after logging nearly 33 minutes in an ultra-physical victory over the Orlando Magic on Sunday afternoon.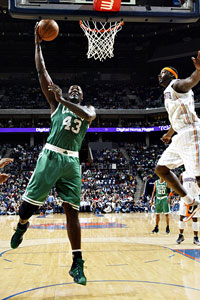 Kent Smith/NBAE/Getty Images
Kendrick Perkins logged a season-high 35 minutes in Charlotte during Monday's loss.Don't expect to hear any complaints out of Perkins though, who's publicly lobbied for more minutes ever since he made his season debut two weeks ago after rehabbing the torn ACL he suffered in his right knee in Game 6 of last year's NBA Finals. After playing a then season-high 28 minutes in the Celtics' 109-96 victory over the Los Angeles Lakers last Sunday, Perkins said in a postgame sideline interview: "I wanted to go 30 [minutes]."
Such a proposition might have caused Celtics head coach Doc Rivers to wince, seeing as he's wanted to limit the number of consecutive minutes Perkins plays until his conditioning is in better, well, condition. Rivers' rules are meant to be broken, however, especially when the number of front court players he has at his disposal seems to shrink with each passing game. When the Celtics took the court against the Bobcats on Monday night, they were without reserve centers Shaquille O'Neal (inflamed Achilles), Jermaine O'Neal (left knee surgery), and Semih Erden (right adductor strain).
Having Perkins as his one available true center might have been the best situation for Rivers in the midst of such a bleak situation overall, since he knows that Perkins will always bring the same blue-collar work ethic, night in and night out, no matter the circumstances at hand. When Perkins made his season debut two weeks ago, Rivers lauded him for having such a mindset.
"Listen, there's people in the crowd that work hard every day, blue collar," Rivers said following his team's 112-95 victory over the Cavaliers. "Perk identifies with all of those people. If you're a guy that works 9-5, you've got to love Perk, because that's who he is."
Perkins lived up to his reputation against the Bobcats Monday night, posting eight points, seven rebounds, and three blocks, all while standing tall as the lone symbol of toughness on a night when the Celtics seemed content allowing Charlotte to do whatever it wanted on the offensive end.
While the likes of Shaun Livingston, Gerald Henderson, and Gerald Wallace routinely torched the Celtics, Perkins' man, Kwame Brown, found his path to the basket consistently impeded by the Celtics' center, to the point of obvious frustration. With just over three minutes left in the first half, Perkins was called for a foul while contesting a Brown layup attempt, and Brown advanced on him after the whistle had been blown, getting right in his face, clearly objecting to his defender's physical play.
Not one to be intimidated, Perkins, arms at his sides, didn't blink once as Brown got closer and closer, and even managed a slight smirk as teammates eventually separated the pair. Brown was hit with a technical foul while a slightly amused Perkins lumbered away. It was the type of mental toughness that many of Perkins' teammates appeared to be lacking in a game that required it.
Towards the end of the third quarter, Brown was back on the attack down low, only to have his shot altered by none other than Perkins once again. Brown managed to secure the offensive rebound off of his own miss, only to have his putback effort also smothered by Perkins. Brown finished a frustrating night with a mere four points (all coming in the first half) on 1-of-9 shooting.
Perkins finished off the third quarter with production on both ends, first converting a layup inside off of a feed from a slashing Von Wafer, and then helping to halt Charlotte's momentum going into the final frame by rejecting a Wallace layup attempt after the Charlotte forward had already streaked by Wafer and Ray Allen along the left baseline.
The Celtics' continuous struggles on the second half of back-to-backs will be well chronicled after Monday's loss, particularly after so many of Boston's players put forth such sluggish play. Perkins, though -- with such little support behind him -- played above all of that chatter. On a night when possible fatigue and a lack of focus served as obvious culprits in Boston's loss, it was Perkins who played as if neither should ever serve as a passable excuse for an uninspiring defeat.
Greg Payne is a student intern for ESPNBoston.com