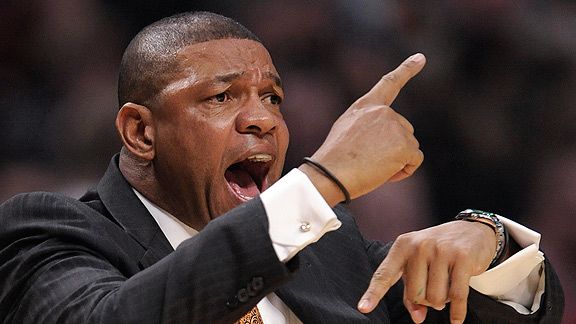 AP Photo/Paul Beaty
Doc Rivers and the Celtics keep swatting at a pesky injury bug.The banged-up Boston Celtics enjoyed a day off Tuesday and will get back to work Wednesday afternoon in preparation for Thursday's showdown with the Los Angeles Lakers. A look at Tuesday's news:
--BANGED UP C'S MIGHT NEED REINFORCEMENTS--
Even before his team throttled the Los Angeles Lakers late last month -- extracting a tiny measure of revenge for a Game 7 loss last June -- Boston Celtics coach Doc Rivers leaned against a wall outside the visitors locker room at Staples Center and expressed great satisfaction about what the Celtics had been able to accomplish in the face of a litany of injuries. At the same time, Rivers expressed a need for his regular bench players to play together before the postseason, something that, because of the injuries, had been impossible to that point but seemed like it might be on the horizon. Rivers couldn't have imagined that things were about to go from bad to worse.
More Celtics and NBA headlines from Tuesday:
* Pierce gets his wish: Allen in the 3-point contest
* Back in the lineup, Perkins is punching the clock
* Celtics slip to No. 3 in latest ESPN power rankings
* Sources: Lakers-Nuggets initiate Melo trade talks
* LeBron scores 41 as surging Heat pull within a half game of Boston
* Magic's Howard irked by contract talk and upcoming free agency