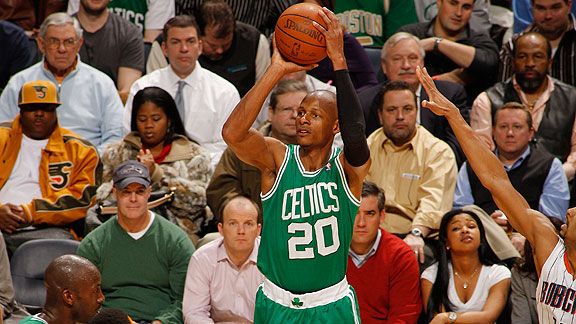 Kent Smith/NBAE/Getty Images
Did Ray Allen purposely wait for Thursday's game to break Reggie Miller's record?After the Bobcats topped the Celtics on Monday night in Charlotte, a local reporter asked Ray Allen about what the hosts did to neutralize his 3-point shot. Allen thought for a moment before deadpanning, "I was 2 for 2."
For a player that is averaging nearly five 3-point attempts per game this season (and six 3-point attempts for his career), it was that low number of attempts that raised some eyebrows. Not since 1998 had Allen had a game in which he attempted 17 field goals or more and only two were 3-pointers. During Monday's loss, Allen pulled within one triple of tying Reggie Miller's career record of 2,560 3-pointers, but never seemingly got a quality chance to reach the milestone in Charlotte.
Here's what we know: Allen hoisted 11 jumpers in the mid-range (16-to-23 feet), most coming a step or two inside the arc. It was the most shots he's attempted in the mid-range this season (and only once has he taken more than six shots there in a game, shooting 10 in a win over San Antonio in early January).
The Bobcats had said before the game that they didn't want Allen to break the record against them, so it stands to reason they were trying to take away the 3-point line, particularly after he splashed his second of the night in the third quarter. But the lack of attempts is still curious.
Even casual observers couldn't help but admit that Thursday was the perfect stage for the milestone moment given a nationally televised game against the Los Angeles Lakers. What's more, Miller is set to be present as a TV analyst for TNT.
Before Monday's game, Allen talked about how that one shot that breaks the record is forever frozen in time and becomes the signature highlight. Clearly, it would mean more to have that moment occur on his home turf, in front of his family and friends, and against a chief rival.
"It's one shot of many," said Allen. "But it ends up being one shot that stands alone."
In fairness to Allen, the Celtics drew up a late-game screen play designed to get him a 3-point look with Charlotte on top 90-87 with little more than 30 seconds to go. A missed screen by Glen Davis prevented Allen from getting an open look and the play broke down (Paul Pierce's layup attempt rolling out as the Bobcats all but secured the win). If he was trying to save the record for Boston, it wasn't going to come at the expense of losing a game.
Regardless, the stage is now set and Allen admitted at Wednesday's practice, it all worked out well.
"It seems like it doesn't matter, but I think about baseball when the guy says, 'Well, he didn't hit a home run off of me,'" explained Allen. "But the guy, whoever gave up the home run in the World Series or whatever it is, you always think, 'You don't want to be that guy that gave it up.' When it happens, so many people come into play because it's the guy who's announcing the game, whose voice is going to be heard forever. You've got the person who makes the pass, so I'm sure I'll be getting the ball passed to me a lot [Thursday]. It's not like I haven't been, but it definitely makes it special to be against the Lakers."