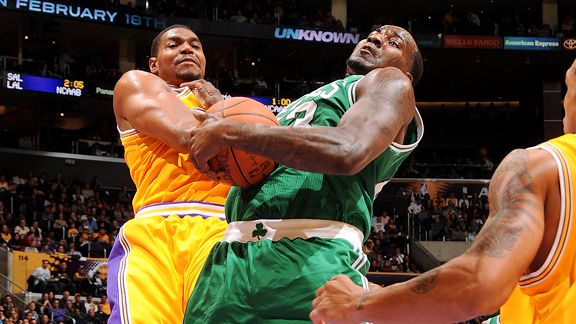 Noah Graham/NBAE/Getty Images
The Celtics and Lakers meet again just 11 days after their last meeting in Los Angeles.

It seems like just 11 days ago we were trading emails with the Kamenetzky Brothers of ESPN Los Angeles' Land O'Lakers blog, previewing the first Celtics-Lakers clash since Game 7 of the NBA Finals. Now, like a kid whose birthday falls right after Christmas, we're wondering why the NBA couldn't have spread the fun out a little bit (and complaining about how cheap relatives spend a few extra bucks on the Christmas present and call it a combo gift). Regardless, here comes the latest installment of the greatest rivalry in basketball and, to catch up on everything that's happened in the whopping 264 hours since these two teams last met, the Brothers K and I dive into all the hot topics.
With Boston winning Game 1, it's my serve and I volley the first question to Brian Kamenetzky:
So what's the panic level in Los Angeles been like over the last week?
B.Kamenetzky: Well, in the day or two following the game, pretty high. The Lakers lost to an elite team. Again. They lost at home. Again. Kobe seemed to simultaneously satisfy in one game the camp insisting he shoots too much and those who think the supporting cast isn't clutch enough to step up. Suddenly Mitch Kupchak declared the Lakers' trading window might just be open for business, and Magic Johnson was on TV declaring the Lakers needed to make a move because they looked old and tired.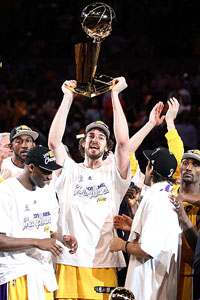 Christian Petersen/Getty
The Lakers need not panic. They're still the two-time defending champs.Fair to say a rather uninspired OT win over a slumping and undersized Houston squad, filled with turnovers, second chance points, and a bad run coming out of the half, did little to soothe fans. Some found positives in their one point loss to San Antonio (with justification, it should be noted), but at the same time it was another home loss to another elite team, and basically ended for good any lingering hope of stealing back the Western Conference.
(Actually, the game dropped L.A. to the W.C.'s third seed.)
The road trip, though, has brought signs of hope. They played a solid game against the Hornets, missing some players but still 20-5 at home heading in, and against the Grizzlies Monday turned in their best defensive performance from an efficiency standpoint since holding Cleveland to 57 points on January 11. Not that they got to bask in it very long, since by Tuesday morning we were all wrapped up in Melo-for-Bynum talk, debating whether the Lakers needed to shake things up. (A large majority of people voting on ESPNLA.com would pull the trigger, hardly a vote of confidence to stay the course, you know?)
What really matters is how they perform Thursday night. Lose again to the Celtics, and the hand-wringing begins again. Most Lakers fans see the Celts as the primary competition. Two losses, particularly another bad one, would definitely feed the local heebie jeebies.
On the other hand, the C's have had a rough week physically. How nervous do Boston fans get when players go down to injury, whether seemingly minor or more serious?
Forsberg: Let's just say I'm pretty glad I got the "Celtics are the best team in basketball" column out of the way before the wheels fell off the injury bus following that win in Los Angeles.
Since that game, Shaquille O'Neal has returned to the shelf with an inflamed Achilles, Jermaine O'Neal gave up on rehab and (finally) elected to undergo surgery on his sore left knee, Semih Erden decided to take some time off with a lingering adductor issues, and Marquis Daniels suffered a bruised spine in a frightening on-court incident Sunday against the Magic leaving both his future this season and Boston's game plan moving forward in limbo.
The Celtics don't have a backup swingman behind Pierce and, oh yeah, Pierce missed Wednesday's practice due to illness. Not the end of the world, those sniffles will go away, but when it rains it pours. The more concerning issue is who replaces Pierce when he has to leave the floor? Von Wafer is the team's top choice right now and coach Doc Rivers admits that Wafer is too undersized to play the 3. That means Boston might have to shuffle Ray Allen and his already-too-high minute total over to some time at swingman, if nothing more than his ability to defend that position (just ask Kobe).
Boston is hoping it can right the ship after the All-Star break as Delonte West is already fighting to resume game activity and neither Shaq or Erden should be out that long. Getting Jermaine O'Neal back at season's end will simply be a bonus. But it's the Daniels situation that's got everyone on eggshells because of Boston's lack of depth at that spot.
All of which bodes well for the Lakers on Thursday, given the Celtics' lack of bodies at maybe the two most important positions against Los Angeles.
Andy, what exactly do the Lakers need to do to win this time around? Is it as simple as getting more out of the frontcourt, particularly with Boston so depleted there?
A.Kamenetzky: It's funny you mention Boston's depleted frontcourt, because this relates directly to the biggest bellwether for determining Lakers-Celtics wins: Rebounding. In nine of the last 10 games (playoffs included), whichever team grabbed more boards emerged victorious. The Lakers are among the league leaders in rebounding, but learned the hard way recently against San Antonio how failing to secure even one loose ball can kill. In the meantime, the Celtics aren't as prolific on the boards, they're missing the O'Neal brothers (no relation) and Paul Pierce is battling an illness.
Under these parameters and considering the game's importance for L.A., if the Lakers can't win this battle, they don't deserve to win the war. Which works out great, because recent history dictates they won't, anyway.
Obviously, there are other matters of importance. Artest v. Pierce. Kobe's effectiveness against a killer strong side D. That Rondo character. Big Baby. But nothing has swung games between these teams more than work done in the trenches. if the Lakers want to control their destiny, controlling the glass is key.
Chris, speaking of injury, how does the absence of Marquis Daniels affect the Celtics, particularly if Pierce remains sickly?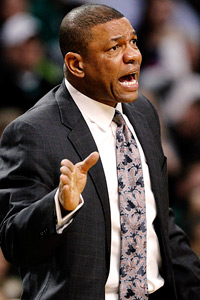 Mark L. Baer/US Presswire
Celtics coach Doc Rivers is operating without a backup swingman and much of Boston's size.Forsberg: The Daniels situation has put the Celtics on tilt like nothing else this season and for good reason. Boston has operated all year knowing full well it doesn't have another swingman behind Pierce and Daniels, which was a risky proposition at season's start considering the amount of time Daniels has missed during his career. Ironically, he had appeared in all but one game this season before his scary incident this past weekend and even that absence was related to a family matter and not an injury.
Celtics president of basketball operations Danny Ainge has preached throughout the season that he liked the makeup of this team and said he was content to go the duration with these 15 guys. Now, he's being forced to examine the trade market closer because there's a very real chance that Boston will now have to make a move for a 3 before the deadline (and if they can't facilitate a trade, they might have to sign someone off the scrap heap at the expense of waiving one of their current 15 guaranteed contracts).
Regardless, there's no ideal situation here. Even if Daniels can get healthy before season's end, his projected absence of at least a month is a long time to cover without a backup to Pierce (and even then there's no guarantee Daniels comes back as strong as he was playing before the scare). As Rivers said Wednesday, the team doesn't have anyone who can come in and guard the likes of LeBron James when Pierce goes out.
All of a sudden, Boston yearns for the likes of Tony Allen and James Posey. I've already received 1,473 trade machine suggestions on how to bring back these players. Which is a nice diversion from the daily Rasheed Wallace requests, but some are even suggesting to bring him back and let him play the 3 (after all, he does like to chuck 3's).
BK, so assuming this whole Carmelo drama fades away quickly (since everyone on the Lakers seems to agree that it's absolutely insane to trade away Bynum and deplete a frontcourt that single-handedly won this team an NBA title last year), is there any realistic moves the Lakers will make at the deadline? Could Ron-Ron really be gone-gone?
B.Kamenetzky: Well, for the record I'd pull the trigger on the deal, not because I think it makes the Lakers better this season (it almost certainly wouldn't) but because I don't trust Bynum to stay healthy over the course of his career. At some point over the next couple seasons, the Lakers will have to decide whether to go all in on Drew. Talented as he is (and a good kid to boot) there's just no way I'd hand him a lucrative contract extension.
If I wouldn't sign him, I've got to trade him, and Melo represents a very, very good return. It's not about replacing Kobe, but making a better investment in a player more likely to, well, play.
But that's neither here nor there, since yeah, I doubt it actually happens. And if it doesn't, blockbusters are basically out. I can't see anyone picking up Artest and the near $22 million left on his contract, not without a horse's head appearing in some GM's bed. (By the way, this applies to Luke Walton as well, Lakers fans.) More than likely, if the Lakers don't make the big splash, they're down to using the $5.5 mil or so available in the trade exception acquired in the Sasha Vujacic deal to add a supporting piece somewhere. OJ Mayo is a name popping up in a lot of trade chatter conversations, and he'd certainly provide something the Lakers don't have outside Kobe Bryant, namely a wing player capable of creating his own shot.
While they'd have to pay him next year, too, Mayo (or similar) would be an upgrade for the bench. Another option? They could use a genuine shooter, as well, since Steve Blake hasn't made himself a consistent part of the offense. Shannon Brown's shooting has gone into the terlit, and Kobe has been poor all season from behind the arc.
In the end, though, it wouldn't shock me if they did nothing, which wouldn't be the worst thing in the world. For all the hand-wringing over what's wrong with the Lakers, any credible discussion about this year's Finals has to include them. It's not like they've waded into the abyss.
So, Chris, the C's have been dominant at home. How much of that is related to the drive for home court in the playoffs this year, and how much better are the Celtics on their floor? Why?
Forsberg: Every year the Celtics seem to struggle with one aspect of their schedule. For whatever reason, last year it was home games (and there was no good reason, which made it all the more frustrating for observers). Fortunately, this year they've traded in those struggles for an inability to win the second night of back-to-backs on the road (seven of their 13 losses have come in that fashion).
The Garden hasn't gotten any louder or more imposing. Yes, there's a new pudgy kid with a half basketball on his head that dances during timeouts and he's awesome, but he's not the difference in turning around Boston's home record. Boston clearly identified that it had to take care of home court this season and, their struggles there last season are simply a friendly reminder that, when the Nets or Wizards visit, the Celtics can't just mail it in.
But Thursday's game will be a nice test of this whole, "How much does home court matter?" theory. After all, the Celtics keep saying that, even without Kendrick Perkins, they might have won Game 7 last year if it was at the Garden. Well, the C's are all sorts of banged up for this one, so let's see if having the crowd on their side sways this one at all.
It didn't during last year's regular season when Kobe Bryant produced the late-game winner over Ray Allen. In the end, when it comes to home court, I'm not sure it matters with these two teams. They've each proven they can win at either location.
So with that, let's throw out our predictions on Thursday's game to wrap this up.
Forsberg: As I told you guys last month, I though Boston would win in Los Angeles, then stumble at home. The injuries this team is suddenly dealing with only strengthen that belief for me. Enjoy the win, Los Angeles. Maybe it'll ease up that panic mode for a bit. Unless the Celtics find a way to actually win this one. Then -- gulp -- Boston fans will really enjoy the crazy trade rumors that would emerge with another big-game loss.
B.Kamenetzky: The Lakers have had two days to think about this game after beating Memphis Tuesday night, meaning they should be well-prepped to attack Boston's defense in better form than they did at Staples. If they can't do a better job finding balance, it's going to be another long night for Lakers fans, because there's nothing the Celtics would like more than to see if, once again, Kobe can single-handedly keep L.A. in the game.
It helps they played arguably their best defensive game of the last month or so (against an actual NBA team, as opposed to the Cleveland Cavaliers) to beat the Grizzlies, so they're feeling good about themselves on that end.
Cockeyed optimist that I am, when the Lakers enter a game I know they'll care about with plenty of rest, my assumption is they should win. Of course, I said the same thing the first time these teams played, and the Lakers were pummeled. If they lose again, the Melo chatter only gets louder. Win, and they can put some of it to rest. (No trade should be made on the basis of one game, but this is the world we live in.)
In the end, I think the Lakers have just a heartbeat more panic to inflict on the citizenry. They lose a San Antonio-esque game. Very close, one that could have been won. Encouraging to some, deflating to others, but enough to make us write four or five more Melo-for-Bynum posts before the weekend.
A.Kamenetzky: I'm inclined to agree with Chris, but not without caution. In part because the "jinx" factor. (Although really, why is this different than any other time I'm asked to make a prediction?) And in part because the Lakers have been so difficult to predict on a game-to-game basis. Except in big games, which have been disappointingly easy to peg.
But erratic nature aside, I really do like the Lakers' chances tonight. As Chris mentioned, Boston is dealing with injuries, plus the random illness. (Even the Boston media is sick! I heard Chris on 710 ESPN with A. Martinez and he sounded on the verge of, as Ferris Bueller would say, coughing up a lung.) These are advantages playing in the Lakers' favor, and even acknowledging the season-long inconsistencies, I'd be very surprised if these gifts weren't utilized.
Plus, the Lakers happen to be playing well at the moment, and should be juiced to get this win on several levels. For starters, revenge for the Staples Center blow out in January, and the acrimonious history between these teams under the best of circumstances. Ron Artest has played extremely well since Marc Stein reported he wanted out -- which Ron insisted wasn't true. Manu Ginobli was held to a miserable shooting clip and even during the Hornets game, where he didn't have a high profile assignment, his defensive impact was pronounced. Considering how thoroughly Artest was outplayed by Pierce in L.A., the timing feels right for a returned favor. Bynum, Odom, and especially Gasol were smoked by their front court counterparts in the first matchup -- which provides incentive -- and Drew is a sharp enough kid to know a strong performance will quell at least some of the "Melo" chatter.
Plus, there's reality. The Lakers simply can't afford to drop this game as much as the Celtics, whether you're talking about confidence or the standings. Period.
Read more from the K Bros. on their Land O'Lakers blog at ESPNLosAngeles.com.