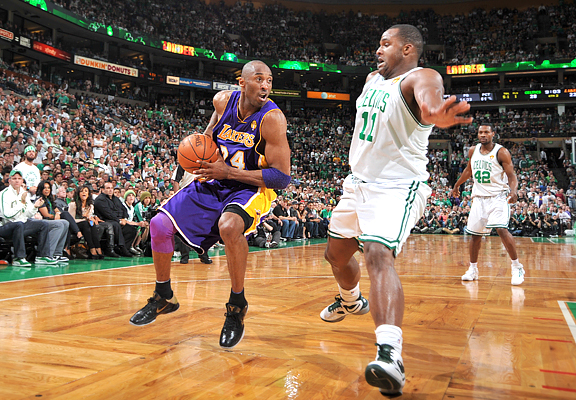 Brian Babineau/NBAE/Getty Images
Mismatch? Glen Davis says he's fine if he had to guard Kobe Bryant.When the Celtics and Lakers met 11 days ago, we learned that Ray Allen is a pretty effective defender on Kobe Bryant. Expect to see Allen and Paul Pierce take turns guarding the Los Angeles star. But who gets the nod if both are off the floor? With the Celtics short on swingmen, Glen Davis applied for the job Wednesday.
"I don't care who I gotta guard," said Davis. "If I gotta guard Kobe, I'll guard him."
Rivers said Davis did play some 3 during Wednesday's practice, but given that Boston is so thin up front, it's more likely Davis will be needed to slug it out with the Gasols and Bynums of the world.