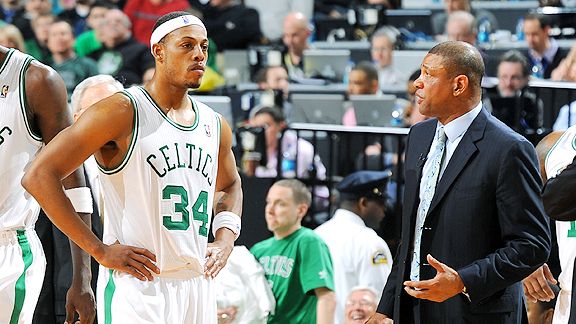 Brian Babineau/NBAE/Getty Images
Paul Pierce and the Celtics have hit a rough patch after some smooth sailing.The Boston Celtics took Friday off coming off a loss to the Los Angeles Lakers. They'll get back to work Saturday in preparation for Sunday's showdown with the Miami Heat.
--CELTICS MAILBAG: ENCOUNTERING TURBULENCE--
The mailbag was brimming with letters Friday morning, which is not uncommon when the Celtics hit a rough patch during the regular season. Alas, sifting through the questions at the top of the 'bag revealed a simple theme: What the [expletive] are the Celtics going to do about all these injuries? There's no way to sugarcoat it. The Celtics were on top of the NBA world a mere 12 days ago after topping the Lakers at the Staples Center, then the injury bug chugged a Four Loko, stung everything in sight in the Boston locker room, and left the Celtics limping toward the All-Star break while losing their grasp on the top spot in the Eastern Conference.
--JACKSON: FINALLY, AN OVERNIGHT SENSATION--
He sat in the gym for the team of the city that has (finally) adopted him as one of its own. It's the eve of the night he took over the statistic that would make him the greatest 3-point shooter of all time. As he stood, ending his conversation with teammate Nate Robinson, reporters and videographers rushed him like he was Lindsay Lohan leaving a courtroom. Fifteen years deep into his NBA career and Walter Ray Allen has finally become an overnight sensation.
More headlines from Friday's coverage:
* Video: Ray's 5 good minutes with PTI | Is Ray in Larry's League?