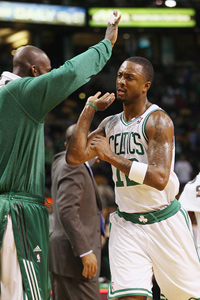 Elsa/Getty Images
Von Wafer's struggles vs. Kobe Bryant might not have been all his fault, according to Doc Rivers.The Celtics have squared off against LeBron James enough over the last four seasons to understand the pitfalls that arise when it comes time to combat him on the defensive end of the floor.
Standing 6-foot-8 and weighing 250 pounds, it's nearly impossible for any one defender to slow him down when he decides to take the ball to the rim. The situation will be even more dire than usual on Sunday afternoon, when the Celtics will play host to the Miami Heat without the services of reserve swingman Marquis Daniels, who remains out of action after suffering a bruised spinal cord in last week's win over the Orlando Magic.
Daniels' absence leaves the Celtics extremely thin at the small forward position, with Celtics captain Paul Pierce left over as the Celtics' only true option when it comes to defending James.
One player Boston will try to lean on is Von Wafer, who played 20 minutes on Thursday night in the Celtics' 92-86 loss to the Los Angeles Lakers and even spent time guarding Kobe Bryant. While it was Bryant's complete offensive game that put Wafer in a bind at times defensively, it will be James' physicality that poses the greatest threat on Sunday afternoon. Wafer checks in at 6-foot-5, 209 pounds, meaning he's ceding three inches and nearly 50 pounds to the Miami forward. After the Celtics practiced at the Sports Authority Training Center at HealthPoint on Saturday afternoon, Wafer acknowledged he'll have to be physical in his attempts to defend James, all while stressing the importance of teamwork in the matter.
"He's strong," Wafer said of James. "He's one of the strongest athletes in the NBA, and probably the strongest guy at his position. So, definitely, I have to try to use my body. But I just have to try to rely on my teammates and just force him into help because it's going to be tough guarding him one-on-one. I don't think anybody in the world can guard him one-on-one. It's going to be a team thing."
Ultimately, it will take a team effort to slow down James, particularly when Miami runs its halfcourt offense. James will undoubtedly attack the rim, but it will be up to Pierce and Wafer (and anyone else who spends time guarding James) to funnel him towards help defenders like Kendrick Perkins, Kevin Garnett, and Glen Davis.
"Whenever you defend LeBron anyway it's not going to be with one [player]," said Pierce. "It's not just going to be Paul Pierce defending him. It's got to come from all five guys. We all know that, regardless if I'm on him. No one guy can stay in front of him and guard him. They call so many plays for him, pick-and-rolls, he's constantly putting pressure on you the way he attacks the basket, so you have to have help at all times from your bigs, from your perimeter guys, regardless of whoever's in front of him. The first guy usually doesn't matter."
Added Celtics head coach Doc Rivers: "Paul will play as much as he can. Then we'll use someone else. You don't guard LeBron with Paul, or whoever else. You guard him as a team, anyway. That's what we worked on today. We got away from that completely in the L.A. game. I don't think anybody -- Rondo at times and Kevin most times -- individually are great defenders. But together, we can be a great team defense. We forgot that script the other night."
Sunday won't mark the first time Wafer's had to play out of position. Wafer said he spent time defending small forwards two seasons ago as a member of the Houston Rockets -- a team, that, like the Celtics these days, was riddled with injuries. Whether or not that experience will matter much against James on Sunday remains to be seen, but one thing Wafer is bound to deliver is effort.
"I'm just going to play hard and whatever happens, happens," Wafer said. "I'm not going to put any pressure on myself. I'm just trying to be there for my teammates.
"I've got pride, I'm just going to fight. If a guy makes a shot, he makes it."
While Wafer will do all he can to make James work on offense, he's also hoping he can force him to expend effort on the defensive end. Rather than staying stagnant along the perimeter, Wafer will look to move without the basketball, and, if James gives chase, he'll be sure to head straight for a few Perkins and Davis-sized screens.
"I don't want to just stand in the corner, [because then] the guy's resting," Wafer said of the mindset he'll bring on offense on Sunday. "Then he's coming at you full force. You've got to make the guy come off screens. That's why [Lakers] coach [Phil] Jackson didn't want to put Kobe on Ray, because he didn't want him running off all of those screens. You've got to make the guy work on the other end."
Greg Payne is a student intern for ESPNBoston.com