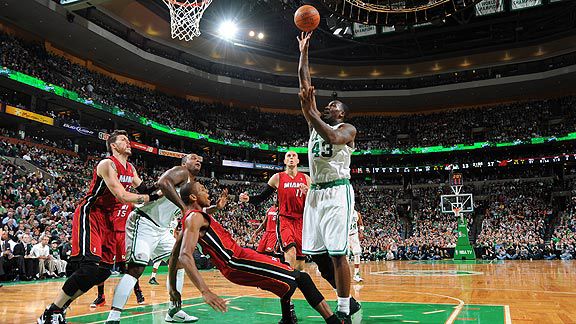 Brian Babineau/NBAE/Getty Images
Celtics center Kendrick Perkins emerged as a post presence in Sunday's showdown vs. the Heat.BOSTON -- The Miami Heat were most likely expecting a number of different elements when it took the court against the Boston Celtics on Sunday afternoon: Aggressiveness from Rajon Rondo, intensity from Kevin Garnett, and -- perhaps -- even solid bench play from someone like Glen Davis.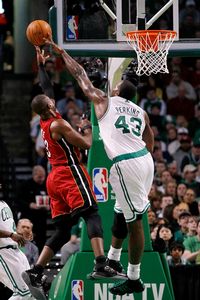 Jim Rogash/Getty Images
Kendrick Perkins came up big on both ends of the court vs. the Heat.What Miami might not have been anticipating was the afternoon Kendrick Perkins ended up having. Perkins served as a legitimate scoring threat in the post throughout Sunday's tilt, finishing with a season-high 15 points on 4-of-8 shooting, including a 7-of-9 performance at the free throw line.
His production was a result of his aggressiveness, perhaps best evidenced by his first basket of the second quarter. Just under a minute into the frame, Perkins secured a Davis miss, but had his putback attempt blocked by Heat forward Chris Bosh. Not willing to be denied, Perkins controlled the blocked shot, and this time, in a tussle with Miami center Joel Anthony, he stormed back up and put in a contested layup as Anthony fouled him. He converted the ensuing free throw, capping off a three-point play that sparked signs of life into a Celtics team that trailed by five at the end of the first quarter.
Perkins played in a manner that wouldn't suggest he was logging time in only his 10th game of the season. Perkins missed the first two and a half months of the 2010-2011 campaign while rehabbing from offseason ACL surgery, but he hasn't altered his style of play as a brooding, physical force on both ends of the floor. He's already slid back into the Celtics' starting lineup and hasn't appeared physically limited in any way.
"Perk did a great job today. I tip my hat off to Perk," said Davis afterwards. "He's been sitting on the sideline watching us play and he comes back and is making his presence felt. That's what it's all about. You can see how important he is to us. Just him being back, I'm just so happy he's back."
After registering seven points in the second quarter on 2-of-4 shooting and a 3-of-3 performance at the free throw line, Perkins scored the first bucket of the second half for the Celtics -- a short hook shot off of a feed from a driving Rondo -- and followed it up less than two minutes later with two more free throws (off a shot attempt that was also generated by a Rondo pass).
Perkins posted his final six points of the game in the third quarter, during a frame in which the Celtics outscored the Heat 35-18 to assume a 74-61 edge heading into the fourth quarter. His final four points came at the free throw line -- a place where he thrived against Miami by setting season-highs in both attempts and makes. His slightly unexpected offensive showing helped the Celtics atone for Paul Pierce's 0-for-10 shooting performance. Pierce, battling hand and foot ailments and expending his energy on the defensive end by guarding LeBron James, finished with only one point on the afternoon. In most cases, such a low offensive output from Pierce would doom the Celtics, but Perkins' post position and assertiveness filled the void and helped the Celtics emerge victorious.
"I thought Perk took his time tonight," said Garnett. "A lot of times when he gets into trouble is when he rushes or when he goes too fast. We look for him. We just tell him to catch the ball and go up aggressive. We encourage him to score. You have to understand, with this team you have multiple guys that can do a lot of different things and when Perk is scoring it's one more scorer, but more than anything it's another threat that the opposite team has to pay attention to."
Perkins might have exceeded expectations on the offensive end, but he lived right up to his well-known reputation on the opposite side of the ball. Perkins helped to keep Anthony and Dampier scoreless, and held Zydrunas Ilgauskas to just three points in the second half, after the Miami center scored six in the opening 24 minutes. All the while he served as the backbone of a Celtics defense that did a fantastic job of containing LeBron James. With James serving more as a point guard than anything else for the Heat on Sunday, his physical drives to the hoop were few and far between, but when they did occur, Perkins and his fellow big men were around to contest the shots and plug in the gaps James was seeking to bull his way through.
Perkins logged 31 minutes for the second consecutive game, and has exceeded the 30-minute mark now in five straight games. Afterward he shrugged off the idea that he's playing too many minutes too soon.
"Luckily, we've got a few days in between each game right now, so I'm just making sure I'm getting my rest and coming in, getting treatment and stuff like that," said Perkins. "I'm a little sore all over the place, but, at the end of the day, I'm just happy to be back on the court. I think me being happy to be out there is just overpowering everything else, so I'm really not even thinking about my [soreness in] my hamstrings or whatever it may be. I'm just going out there, competing, and I know we're short of guys, so I'm just doing what [I can]. If [Celtics head coach Doc Rivers] wants me to play 40 [minutes], I'm going to try and play 40."
He only needed 31 on Sunday to put together what was one of his most complete games of the season. He registered double digits in points for the fourth time, and he ripped off six rebounds on top of that.
"[Perkins] played great," Rondo said afterward. "He's always been very efficient, high of 50 [percent], high of 60 [percent] shooting the ball. He played big for us. He got some rebounds, he [contested shots]. Perk is back."
Greg Payne is a student intern for ESPNBoston.com