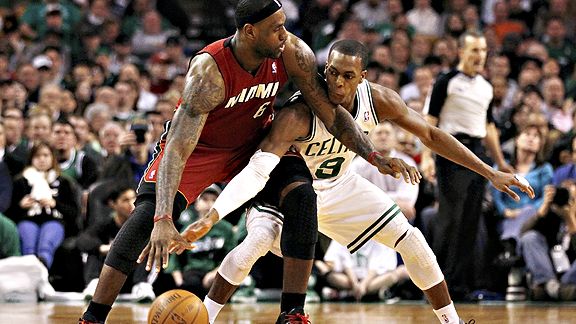 Jim Rogash/Getty Images
Rajon Rondo played some feisty defense on LeBron James.BOSTON -- Everything you need to know after the Boston Celtics defeated the Miami Heat 85-82 Sunday afternoon at the TD Garden:
Rapid Reaction | Game Recap | Box Score
--MacMULLAN: C'S KEEP HEAT IN THEIR PLACE--
It is foolhardy and premature to make NBA Statements at this early date. Proclamations carry weight in June, not February. Really, now. Why put so much emphasis on one game? And yet, before the Miami Heat's Sunday matinee against the Boston Celtics, the Heat enthusiastically discussed utilizing this game as a measuring stick of their progress, their trust and their rightful place in the Eastern Conference hierarchy.
--FORSBERG: RONDO AT HIS PESTY BEST VS. HEAT--
Celtics assistant coach Lawrence Frank, the man in charge of all things defense on a Boston team that tops the league in points allowed per game, was incredulous. Boston opened the second half with Rajon Rondo applying full-court pressure as Miami's LeBron James brought the ball up the floor, creating what should have been an exploitable matchup for the Heat. As he recounted the story of the bench chatter at that moment, Celtics head coach Doc Rivers even threw in some of Frank's high-pitched inflection (often audible on TV broadcasts) when relating that his top assistant was screaming, "We can't do this!" Rivers, on the other hand, soon decided it was crazy enough to work.
--PAYNE: HEAT LEARN HARD WAY - PERK IS BACK--
The Miami Heat were most likely expecting a number of different elements when it took the court against the Boston Celtics on Sunday afternoon: Aggressiveness from Rajon Rondo, intensity from Kevin Garnett, and -- perhaps -- even solid bench play from someone like Glen Davis. What Miami might not have been anticipating was the afternoon Kendrick Perkins ended up having.
--POSTGAME NOTES: PIERCE SCHEDULED FOR MRI ON HIS FOOT--
After being held without a field goal over nearly 40 minutes in Sunday's win, Celtics captain Paul Pierce revealed that he is battling pain in his right hand and left ankle, the latter of which will require an MRI on Monday. "I sprained my hand in practice [Saturday] and I hit it today," Pierce said. "I've just got to get my foot checked out [Monday]. I'm going to get an MRI on it and go from there."
More coverage: ESPNBoston.com | The Heat Index
Video Vault
Click HERE to watch all the video from Sunday's game.
Tweet of the Night