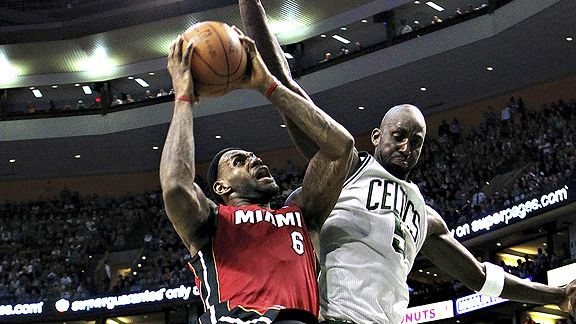 Jim Rogash/Getty Images
The Celtics said it would take all five players to defend LeBron James, and it did.BOSTON -- Entering Sunday's showdown with the Miami Heat at TD Garden, the Celtics knew they had a limited number of bodies to throw at the 6-foot-8, 250-pound LeBron James. With Marquis Daniels sitting on the Boston bench in street clothes nursing a bruised spinal cord, Paul Pierce was left to serve as the only true defensive option for the Celtics.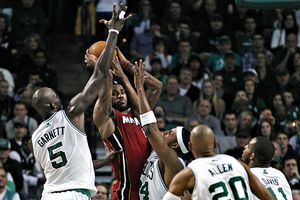 AP Photo/Elise Amendola
The Celtics had LeBron James and the Heat covered, picking up their third win in three meetings with their Eastern Conference rival.Boston head coach Doc Rivers admitted prior to Sunday's game that if James made a point to establish himself in the post, where he could use his muscular frame to carve out space for easy baskets, the Celtics would be in for a long afternoon.
Early on, it was shaping up to be just that. With James playing off of the ball and working around a number of screens set by the likes of Miami big men Zydrunas Ilgauskas and Chris Bosh, Pierce did all he could do keep James from penetrating. Pierce ducked under nearly every screen, in an effort to recover and cut off any path James might have had to the hoop, all in an effort to encourage James to be more of a jump shooter than anything else. Pierce's strategy had some success, as evidenced by him cutting off a James drive to the basket with just over eight minutes left in the first quarter. James was forced to resort to an awkward fading shot on the left side that drew iron.
Ultimately, LeBron's greatest success in the opening frame came when he moved without the basketball and established himself in the paint. Starting out in one of the corners, James would cut by a screener set up just outside of the paint and receive an entry pass from the ball handler, who was standing at one of the elbows. When Pierce went under these screens, James had already established favorable position in the paint, and he was able to simply back his way closer to the rim and put in an easy hook shot. This was most likely the type of offense that Rivers was so wary of.
The play itself wasn't an uncommon one. In fact, the Celtics used a similar set later in the game to try and free up Von Wafer for an easy look at the rim. James scored all eight of his first quarter points in the paint, two of which came on a breakaway slam dunk with just under four minutes remaining in the frame.
From there, though, Miami altered its own schemes on offense, which, believe it or not, helped the Celtics in their attempts to limit James' easy looks at the basket. Miami's starting point guard, Mario Chalmers, played 10 minutes, 41 seconds of the opening quarter, and his ability to handle the ball allowed James to move without it, which ultimately helped him establish his position in the post. Chalmers, though, found the court for just 2:14 over the final three quarters.
With Chalmers not playing at all in the second quarter, the Heat resorted to an unconventional lineup with James serving as the primary ball handler. While James is certainly capable of bringing the ball up and initiating Miami's offense, the move kept him out along the perimeter, which gave the Celtics the opportunity to crowd him and send extra defenders at him whenever he initiated a pick-and-roll, or otherwise attacked the rim. James took just three shots in the second quarter, two of which were long 3-pointers -- one from the left wing and the other from the right wing. James is shooting 34.9 percent from 3-point nation this season, so ultimately, the Celtics were satisfied when he settled for those shots.
In the third quarter (with Chalmers playing just over two minutes), things changed once again for both teams. In a surprising move, and one that garnered the most headlines Monday, Celtics point guard Rajon Rondo (who stands at 6-foot-1 and weighs almost 100 pounds less than James) began defending James, going so far as to apply full court pressure as the Miami forward attempted to advance the ball past midcourt. The decision was Rondo's, and Rivers ultimately decided to stick with it, even as Celtics assistant coach (and defensive guru) Lawrence Frank advised against it. With Rondo swiping at the ball constantly, James was often forced to play with his back to his team, in an effort to keep the ball safe. The Celtics kept Rondo on James for several minutes of the third quarter, and even though he did a credible job of making James look uncomfortable handling the ball along the perimeter, Rondo ultimately needed help from his teammates whenever James decided to try and back him down.
Rivers acknowledged afterwards that this defensive matchup hurt the Celtics at times, and he was right, since, ultimately, there was a trade-off. The Celtics were content on sending extra defenders LeBron's way to help out Rondo, but that left other Miami players open, and James, being a skilled passer and decision-maker, often found them for quality looks at the basket. With just over nine minutes left in the third quarter, with Rondo applying full court pressure on James, Kendrick Perkins came over to double-team the Miami forward, and he fed Bosh for an open look at a jump shot, who was fouled by Kevin Garnett.
Three minutes later, with the same defensive strategy still in play, James isolated Rondo on the left block, and when Perkins rotated off Ilgauskas to double the Miami forward, James zipped a sleek behind-the-back pass along the baseline to the open Ilgauskas. Ilgauskas put in the layup as he was fouled by Garnett, who couldn't rotate down quickly enough to prevent Ilgauskas from scoring.
Perhaps deterred from double-teaming James, the Celtics allowed Rondo to play him 1-on-1 in the post less than a minute later, and, not surprisingly, James had a good deal of success. He backed Rondo down into the paint, and even though Rondo fouled him, James still converted an easy hook shot, good for another three-point play opportunity for Miami.
After the game, Perkins acknowledged that the Celtics' energy "just picked up" once Rondo started pressuring James, and the scoreboard reflected that. The Celtics embarked on a 20-3 run to start the second half, assuming a 13-point edge in the process. The Heat halted the run once James began finding his open teammates, which again reflects the trade-off Boston was willing to settle for. As Perkins acknowledged, the sight of Rondo hounding James sparked life into Boston, but from an X's and O's standpoint, the matchup might not have been ideal.
With just over five minutes remaining in the third quarter, Pierce was back on James, and with the help of Davis and Garnett, successfully prevented him from getting to the rim on a number of pick-and-roll opportunities. With just over three minutes left in the third, Heat center Joel Anthony set a screen for James, but Davis jumped out and blocked LeBron's path to the basket for enough time for Pierce to recover and re-assume his defensive position.
The Celtics carried a 13-point edge into the fourth quarter, and, consistent with the opening three frames, experienced equal parts success and failure in their attempts to slow down James. With Chalmers sitting out the entire fourth quarter, James still served as the initiator of Miami's offense. Again, the trade-off was in play, as the Celtics seemed determine to crowd James, but surrender open looks from his teammates. He followed up a jump shot off of a Bosh screen with a drive on the right side, but Pierce, Garnett, and Davis all converged as he neared the basket, and he was forced to kick the ball out to an open Dwyane Wade, who missed a 14-foot jump shot. On Miami's next possession, James took the clock down, but Pierce played excellent defense and didn't allow James to get to the rim. James kicked the ball back out and Miami eventually turned the ball over on a shot clock violation when Bosh didn't hoist a shot in time.
Two minutes later, Pierce and Garnett snuffed out a James and Bosh pick-and-roll, with Garnett switching onto James and doing all he could to contest LeBron's jump shot, which found nothing but iron. Two Miami possessions later, the trio of Pierce, Garnett, and Davis once again converged on James as he attacked the rim, but rather than kick it out to a teammate, James tried forcing a layup and missed.
The Celtics prevailed over the Heat, 85-82, and while James still managed 22 points on 10-of-21 shooting, they certainly didn't come easily. Boston's attempts to contain James worked, for the most part. What the Celtics need to be careful of if these two teams meet in the postseason, though, is how many open looks they're willing to surrender to LeBron's teammates. Ilgauskas, Wade, Eddie House, Mike Miller, and James Jones combined to shoot just 12-39 from the field (30.7 percent) for the Heat on Sunday, but they registered a number of open, quality looks at the basket. The Celtics dared LeBron's teammates to beat them on Sunday afternoon, and they couldn't. Ultimately guys like House, Miller, and Jones are all quality shooters who are capable of making an opposing defense pay for leaving them open. Whether this defensive strategy will work for the Celtics in a seven-game series will be an interesting question as the playoffs draw closer.
Greg Payne is a student intern for ESPNBoston.com