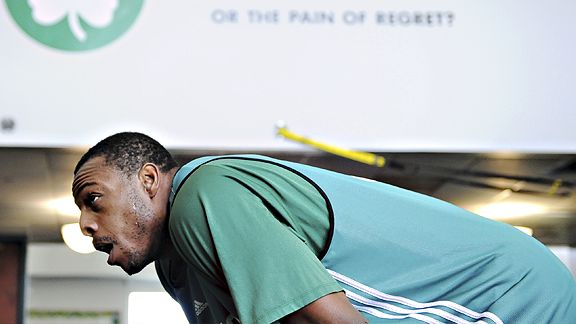 Brian Babineau/NBAE/Getty Images
Paul Pierce works out in the Celtics' weight room earlier this season.WALTHAM, Mass. -- A collection of news and notes after the Boston Celtics practiced Monday afternoon at the Sports Authority Training Center at HealthPoint:
The rundown: Pierce OK | West's return | 'Quis update | Shaq back? | Loose balls
Celtics captain Paul Pierce sat out Monday's practice and is expected to do the same on Tuesday, but tests on his ailing right hand and left foot revealed no major injuries and Celtics coach Doc Rivers said he expects Pierce to play Wednesday night in Boston's pre-All-Star-break finale against the New Jersey Nets.
"He's good," Rivers said after an open practice. "Yeah, it's OK. Everything's good. I think there's bruising, obviously, swelling, but everything he can play with. That was very good."
Asked if the conditions could worsen if he plays, Rivers said doctors haven't discouraged Pierce from getting back on the court.
"We don't know that," said Rivers. "They said 'No,' really. It's just one of those things where [if] someone hits you with a baseball bat on your arm, it's just going to take time to heal. That's what happened. He got kicked a couple games ago in his foot, and then he got hit on the hand the same way in the same game, and they both are reacting.
"Obviously, the break is coming at a great time. We have one game left. For precaution, just so nobody kicks him or hits him, we're not going to practice him tomorrow either, which will be difficult for Paul because he likes to practice. We'll play him in the game and I know the coach of the All-Star game, so he probably won't play a lot in that game."
Rivers, of course, is the head coach of the Eastern Conference All-Stars this season.
--WEST SET TO PLAY WEDNESDAY--
Celtics reserve guard Delonte West is expected to log his first game minutes on Wednesday against the same New Jersey Nets team he suffered a fractured right wrist against on November 24. West participated in the entirety of the team's session on Monday, and, barring any sort of residual soreness after Tuesday's session, he will be in the lineup on Wednesday.
"Delonte's going to play," said Rivers. "The only thing is, obviously, if [Tuesday] he goes through the practice and it gets sore, and then we'll pull him. Because, if it's to a point where it's not right, I'm not going to play him."
Rivers is hoping West will play, so that he can get a jump start on regaining his in-game stamina and timing before the team's upcoming road trip.
"[West's timing and stamina] will not be right [immediately]," said Rivers. "That's why it'd be great to get him one game, so when we go out west, he's already had the one game out of the way. He'll also understand how far he is away, probably, with timing and stamina and it'll give him a gauge on how much he has to work."
--CENTER TALK: SHAQ NOT IMPROVING, ERDEN GETTING BETTER, J.O. REHABBING--
Shaquille O'Neal hasn't seen any improvement in his inflamed right Achilles that has caused him to miss the the last five games, and Rivers was hesitant to guarantee O'Neal will take the floor at some point during the team's four-game west coast road trip immediately following the All-Star break.
"Shaq, honestly, it's just not healing right now," said Rivers. "We're hoping after the [All-Star] break at some point, obviously. When he first injured it we all thought it was a one- or two-game thing, and now it's been longer, and now it's getting to the point where we're not sure if he'll play on the west coast trip or not. We're hoping he will. Right now we think he will, maybe not every game, maybe we play him every other game, but if we had to play today, I don't know if Shaq could play today."
Rookie center Semih Erden, meanwhile, has seen steady improvement in his right adductor strain and Rivers expects him to be ready for the first game of the team's west coast road trip against the Golden State Warriors next Tuesday.
"It looks like Semih will be ready when we get to Golden State, unless it turns the other way," said Rivers.
The Celtics' other injured center, Jermaine O'Neal, was spotted at the team's practice in workout gear, but walked off the floor with a team official shortly before the official session began. O'Neal underwent a left knee arthroscopy on Feb. 5 and is currently in the rehabilitation process. Rivers said O'Neal is relieved the operation is behind him and reiterated that he's still on the same 6-to-8-week timetable that general manager Danny Ainge previously set following the operation, which would peg him for a return in either late March or early April.
"He's doing great, honestly," said Rivers. "I think he feels really happy that he did the surgery. You can tell it's a race with him, because he wants to get back so he can try to help us."
-- NO TIMETABLE ON DANIELS--
Rivers noted that the Celtics have found the doctor they want to work with injured swingman Marquis Daniels as he begins to rehab from the bruised spinal cord he suffered against the Orlando Magic just over a week ago, but he reiterated what he said Sunday, noting that he does not expect Daniels back in the rotation anytime soon.
"They're going to do an evaluation and then they're going to have to make a decision on where they go from there," said Rivers. "Guys, 'Quis is not going to be back anytime soon."
-- LOOSE BALLS: RONDO & THE HUDDLE; DOC NO FAN OF THE ZONE--
* Rivers praised his team's resolve against the Heat on Sunday afternoon, but was not as supportive of Rajon Rondo trying to enter a Miami huddle in the third quarter following a flagrant-1 foul by Heat guard Dwyane Wade on Kevin Garnett.
"I didn't like the huddle thing, honestly," said Rivers. "I don't think we ever need to do that stuff. Having said that, the point he was making was that it wasn't a timeout. He was actually right. I was telling someone, 'His basketball IQ is so good that he's the only one who realized that.' I did and a couple of the coaches, but everyone, even Miami was acting like he couldn't be in the timeout and it wasn't a timeout, so you don't have a right to meet. If you do, everybody can get in there. You still don't like it. I just think just go play the game and get it over with in that way. But he was right and it's tough to argue."
* When asked if he was willing to employ a zone defense with his team so shorthanded, Rivers admitted he'd much rather stick to a man-to-man scheme, although he has introduced zone defense in practice.
"I can't stand zone," said Rivers. "But we're going to work on it. We're going to work on it everyday."
"Let's just be honest, right now, we go out west, with the numbers we have, then we're going to have to run some zone just to save guys because of fouls. And every once in a while it may be a good thing anyway."
Rivers eventually rattled off a long list of reasons why he prefers to stay away from using a zone defense.
"Because it's not man, and you're not on a guy, you're not on a body. I hate it because when you shoot there's nobody on bodies and the offensive rebounds," said Rivers. "And I always think, mentally, I think guys think that zone is a concession, number one, and they don't guard the guy like they would in a [man-to-man defense]. I think there is some use for it if we do it the right way."
Greg Payne is a student intern for ESPNBoston.com