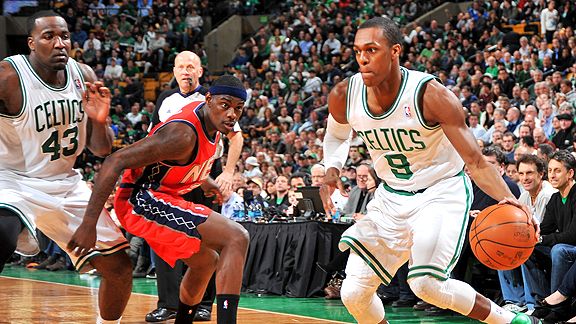 Brian Babineau/NBAE/Getty Images
Rajon Rondo makes a move against the Nets.BOSTON -- Rapid reaction after the Boston Celtics defeated the New Jersey Nets 94-80 Wednesday night at the TD Garden:


HOW THE GAME WAS WON
Celtics captain Paul Pierce scored a game-high 31 points on 10-of-18 shooting, pumping in 24 of those points with double-digit outputs in each of the first and third quarters. All while putting the Celtics on his back at times, this after going for an MRI earlier this week on a bruised left foot (and sitting out the last two days of practice with that and an ailing right hand). Kevin Garnett added 14 points and 10 rebounds, while Ray Allen chipped in 12 points.
TURNING POINT
The Nets wouldn't go quietly early in the fourth quarter and rallied back in front with just over six minutes to play. Giving a glimpse of that 3-point shootout this weekend, both Paul Pierce and Ray Allen drilled 3-pointers (Kendrick Perkins adding a pair of free throws after an entertaining mini-dust-up with Sasha Vujacic) to put the Green out front, 85-78, with under four minutes to go.
STAT OF THE GAME
The Nets committed a whopping 17 turnovers leading to 18 points for Boston; The Celtics turned the ball over a mere nine times for two points.
Comcast SportsNet Screenshot
Sasha Vujacic grabs his shoulder after getting tangled with Kendrick Perkins.UNSUNG HERO
Rookie Luke Harangody got extended burn due to Boston's early double-digit cushion and chipped in eight points on 3-of-6 shooting with three rebounds, a steal and a block over 14 minutes (even if he finished minus-5 in the plus/minus as the bench failed to hold the lead).
WHAT IT MEANS
No sugar-coating it: This one was ugly, but maybe we should have expected it. Celtics coach Doc Rivers warned against the difficulties of maintaining focus on the last game before the All-Star break and it sure played out for Boston, who squandered a 15-point first-half lead. Boston wins the final two games before the break and holds onto the best record in the Eastern Conference over the six-day NBA holiday.