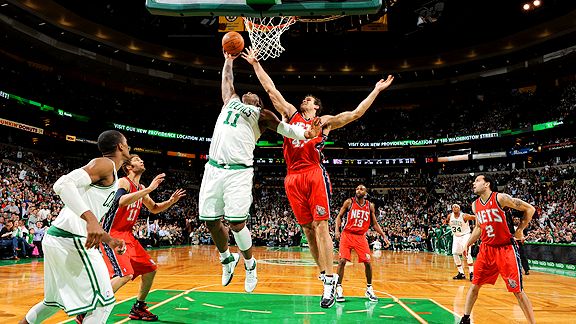 Brian Babineau/NBAE/Getty Images
Glen Davis skies towards the rim vs. the Nets.BOSTON -- The 82-game NBA season is often referred to as a marathon and not a sprint. Yet for such a lengthy campaign, it can pass by at an awfully quick pace.
Don't look now, but suddenly the Celtics find themselves with only 28 games remaining on their regular season schedule. In just eight weeks, the playoffs will be here.
For now, though, the season takes its annual timeout. The All-Star break has arrived, serving as the threshold to the "second half" of the season (technically the second half of the season commenced with Game 42, about three weeks ago). The Celtics will tell you that the playoffs are what matter most, and they would be correct in their assessment. The playoffs are the only place they can achieved their desired result of another NBA title.
The "second half" of the season, though, always serves as the final tune-up for the real games. For Boston, those games will allow for the wave of injured players to acclimate themselves all over again. Shaquille O'Neal will return and join the bench brigade. Delonte West will come back from his fractured right wrist and hopefully remain intact for the rest of the year. His presence will provide needed stability to a second unit that has arguably been in flux all season due to the injury bug. Doc Rivers can hone his playoff rotation. The defense can still be tightened up, and the offense can still progress.
The Celtics earned their third victory over the Miami Heat this season on Sunday -- an impressive feat considering Boston essentially won it with only seven players. All of those good vibes would have come crashing down Wednesday night, though, had the Celtics faltered against the 17-39 New Jersey Nets in their final game before the All-Star break. A loss would have left a sour taste of disappointment in the mouths of the men in green. Instead, Boston jumped out early, allowed things to get dicey for a while, then pulled away late for a 94-80 victory, establishing a modest -- yet promising -- two-game winning streak heading into the break.
It was a win this team wanted. Kevin Garnett alluded to its importance after practice on Tuesday afternoon, suggesting a win would serve as "momentum" heading into the final 28 games. After the win was secured, Paul Pierce went so far as to say a loss would have taken away from what is sure to be a memorable All-Star weekend. Pierce and Ray Allen will duel in the 3-Point Shootout on Saturday night, and then they'll join teammates Garnett and Rajon Rondo, along with the entire Celtics coaching staff, for the 60th annual showcase on Sunday evening.
A loss to the Nets, though, would have scratched off some of the luster.
"We were just trying to put this team away -- the pesky Nets, trying to do everything they can to win," said Pierce. "We're trying to grind it out. You hate to go into a weekend and try to have fun, especially with a loss. I thought it was really important for us to pick up our play in the fourth quarter, make a run. This team, we're a real emotional team. If we lost, it probably wouldn't have been a fun weekend."
That such a loss would weigh heavily on the minds of this season's Celtics might ultimately be the greatest difference between this season and last. The Celtics have maintained their stance all season: It's championship or bust. But they also understand the importance of the current games at hand, and how they can have a strange way of impacting what happens later on.
Last season, the Celtics might not have responded after blowing a 15-point lead to the Nets. They might not have rallied to hold New Jersey to a mere 3-of-24 shooting in the fourth quarter. The reason? Perhaps the never-ending hangover from the Game 7 loss to the Los Angeles Lakers in last year's NBA Finals -- a debilitating feeling this group still endures from time to time.
"Last year, I think we would have kind of took the same approach, but I think this is a different team than last year, especially with how far we got," said Glen Davis. "I think we're all just different, so I think that's different between this year and last year, because of what we went through. We finished the game. That's what it's all about, just finishing, but at the same time we know we've got to get better the second half of the season."
Davis understands the importance the "second half" of the season can hold for a team like the Celtics.
"We realized how close the game was and we needed to get it done," Davis said. "But we can't play like that. Being the last game of the first half of the season, we needed to leave a better impression on what we have to do, because this next half we've got to go. We can't slip up. The games that we need to win, we need to win them. We need to execute. We need to do the things that we need to do to make sure when we get there in Game 7 that we complete the mission. It's one game at a time. I know everybody's going to be looking forward to this year and hopefully everybody's going to be back. Delonte, we've got [Jermaine O'Neal] who's going to be trying to push back, we've got Shaq who's probably going to be coming back, Semih Erden might be back, you never know. So we're pushing forward to what we want to do and that's win a championship."
The first four games of the Celtics' final 28 will be played on the road, beginning next Tuesday against the Golden State Warriors. Wednesday's win, at the very least, served as something of a building block with a difficult trip looming after the break.
"I just know it was a good win going into the break and headed west, so we needed something to build on and we've just got to keep building," said Kendrick Perkins.
The Celtics understand the season is a process. Not everything comes together overnight, particularly with injuries serving as inconvenient speed bumps, and, inevitably, setbacks. There's still significant room for this team to make improvements over the final 28 games. Rondo said after practice on Tuesday that Boston can be better in back-to-back situations. Allen said he'd like to see the same focus from the C's no matter who their opponent is.
"We just got to have that winning mentality, but at the same time we've got to finish games," said Davis. "Guys like the Nets in the second half of the season, we've got to take them out. I would like to end [the first half of the season] off like that, but at the end of the day a win's a win. But we know what we have to ultimately do."
Getting there will be half the battle, but at least Boston's ship is already headed in the right direction. Wednesday night's victory was a momentum-builder, and helped steer them towards what will hopefully be a successful "second half", and an even more successful postseason.
Greg Payne is a student intern for ESPNBoston.com