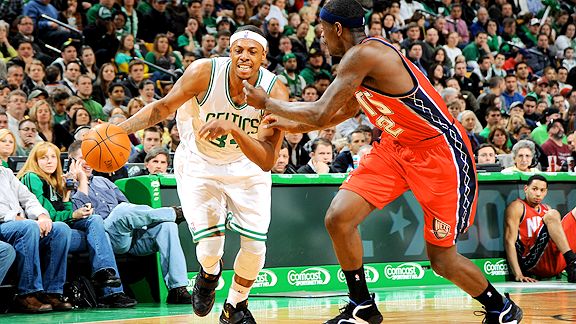 Brian Babineau/NBAE/Getty Images
Paul Pierce showed Wednesday that his foot and hand are feeling fine.BOSTON -- Everything you need to know after the Boston Celtics defeated the New Jersey Nets 94-80 Wednesday night at the TD Garden:
Rapid Reaction | Game Recap | Box Score
--FORSBERG: PIERCE SHOWS OFF HIS RESILIENCY AGAINST NETS--
Missing all 10 shots he attempted in Sunday's win over the Miami Heat didn't bother Boston Celtics captain Paul Pierce all that much. Even after one of the most anemic offensive performances of his 13-year career, Pierce knew he'd bounce back the next time out. As long as his body would allow him. And the pain in his left foot that contributed to Pierce's struggles against the Heat made him slightly uneasy. The discomfort was similar to what Pierce had experienced during the 2006-07 season when he had a stress reaction that sidelined him for 24 games. An MRI on Monday revealed only bruising, and Pierce breathed a sigh of relief. Then he took out any lingering frustrations from Sunday's performance on the poor New Jersey Nets.
--PAYNE: CELTICS PACK MOMENTUM BEFORE THE BREAK--
The 82-game NBA season is often referred to as a marathon and not a sprint. Yet for such a lengthy campaign, it can pass by at an awfully quick pace. Don't look now, but suddenly the Celtics find themselves with only 28 games remaining on their regular season schedule. In just eight weeks, the playoffs will be here.
--POSTGAME NOTES: NO HOME INVASIONS AT GARDEN--
Ever since their head-scratching struggles on the Garden floor last season, the Celtics have preached a heightened desire to protect their home turf. With Wednesday's win, Boston improved to 25-5 at home this season, exceeding its win total from a year ago even before the All-Star break. "We talked about it," Celtics coach Doc Rivers admitted after the game. "Obviously, you've got to go through it. But we did talk about it going into the year. We knew we had a ton of injuries and we were playing guys strange minutes, but one of the things we still expected through all that last year was just to win the home games. And we didn't do that. So obviously this year has been much better."