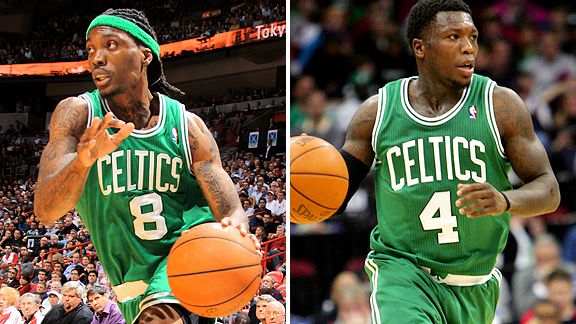 Getty Images, US Presswire
Could uncertainty about Marquis Daniels (left) leave the C's open to moving Nate Robinson (right)?The Celtics enjoyed the first offday of the All-Star break Thursday, with much of the team trekking to Los Angeles for this weekend's festivities. With the trade deadline looming shortly after the break, Peter May headlines Thursday's coverage with a look at those that could potentially be coming (or going):
--EXPLORING BOSTON'S OPTIONS AS TRADE DEADLINE NEARS--
There is less than a week to go before the trade deadline. The Celtics, once thought to be bystanders, now are at least thinking of tweaking their roster due to the recent, serious injury to Marquis Daniels. The area of concentration is Daniels' position: small forward or big guard. Not only would it help to have someone who can step into that role to spell Daniels -- there's no assurance he will be back after bruising his spinal cord -- but also to spell Paul Pierce and Ray Allen, both of whom have played in all 54 games this season.
--MAGIC/BIRD SHOW TO OPEN IN 2012--
The playwright behind the Broadway play "Lombardi" is moving from the gridiron to the basketball court. Eric Simonson is working on "Magic/Bird," a new play that will chronicle the lives of Hall of Famers Larry Bird and Magic Johnson. Producers Fran Kirmser and Tony Ponturo were encouraged by the response to "Lombardi" -- the story of legendary Green Bay Packers coach Vince Lombardi now on Broadway -- to push ahead with a second sports-themed play.
--VIDEO: TOP 10 C'S PLAYS FROM THE FIRST HALF OF SEASON--
From Ray Allen's record-breaking 3-pointer against the Los Angeles Lakers, to Paul Pierce's 20,000th point, to Kevin Garnett's alley-oop finish to beat the 76ers, we count down the top 10 moments from the first half of the Celtics' season.