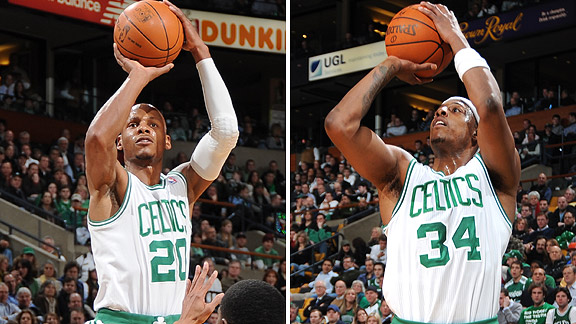 Brian Babineau/NBAE/Getty Images
After two weeks of trash talk, it's time for Paul Pierce and Ray Allen to strut their stuff Saturday night.Afraid of starting some sort of 3-point civil war, members of the Boston Celtics desperately avoided picking a potential winner between Paul Pierce or Ray Allen in Saturday's 3-point shootout at All-Star weekend:
--NO PICKING SIDES IN PIERCE VS. ALLEN--
No truth to the rumor that the Boston Celtics considered erecting a divider straight through the middle of their practice facility at the Sports Authority Training Center in Waltham last week. It simply felt that way as a team that's rarely short on opinions turned into a bunch of fence-sitters in advance of Saturday's 3-point shootout as part of festivities at the 60th annual All-Star game. The 12 veterans on Boston's roster at the start of the 2010-11 season had 108 seasons of cumulative NBA experience. No surprise then, that they typically act like your curmudgeonly grandfather, spouting unsolicited opinions about anything and everything. Coach Doc Rivers has noted in the past that some of his troops will argue just to argue. Yet not a single player had the temerity to choose between defending champion Paul Pierce and former champion Ray Allen when posed the question in the days leading up to Saturday's showdown.
So the Celtics might not have been willing to pick an allegiance, but we're putting the question on you, faithful reader: