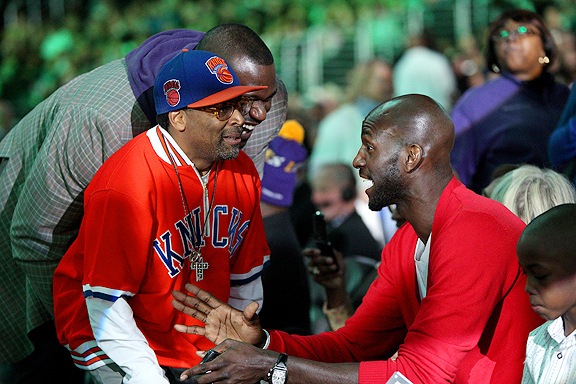 Ned Dishman/NBAE/Getty Images
Spike Lee and Kevin Garnett renewed acquaintances in Los Angeles Saturday.LOS ANGELES -- Lost in the all the hype surrounding the All-Star Saturday Night festivities, Spike Lee and Kevin Garnett were caught having a confab on the sideline during the action.
You might remember that Lee, the movie director and Knicks superfan, told ESPNNewYork.com earlier this month that Garnett "needs to calm the [expletive] down" after Lee suggested the Big Ticket cursed him out during Boston's visit to Madison Square Garden in December.
Under fire from all angles, Garnett responded to the wide-ranging criticism on Friday by noting, "I could care less about what Spike or whoever else has something to say about me. My organization is happy with what I'm doing, so I could care less."
From the looks of the photo, Celtics reserve big man Shaquille O'Neal might have helped facilitate the meeting between Lee and Garnett (and the big man sure seems to be getting a kick out of whatever Garnett is telling a grim-faced Lee). Come to think of it, has anyone seen Lee since this meeting?
Garnett was refreshingly open and honest Friday while discussing being labeled a "dirty" player amidst that recent hailstorm of criticism. His fellow Eastern Conference All-Stars seemed to genuinely get along with him Saturday (and we're not just talking about the Boston contingent) as he joked with many of them throughout the morning session.
Heck, even after picking up a flagrant-1 for a chop to Garnett's throat last week in Boston, Miami's Dwyane Wade sat right next to Garnett during Saturday's skills competitions.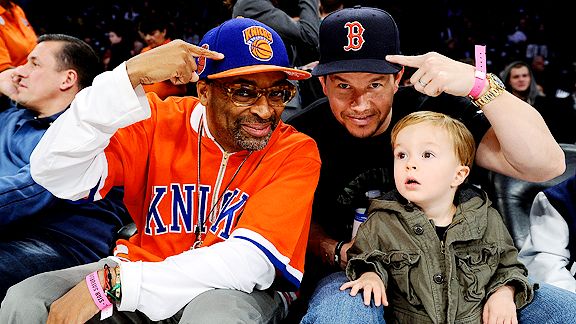 Kevork Djansezian/Getty Images
Spike Lee and Mark Wahlberg promote Boston vs. New York.