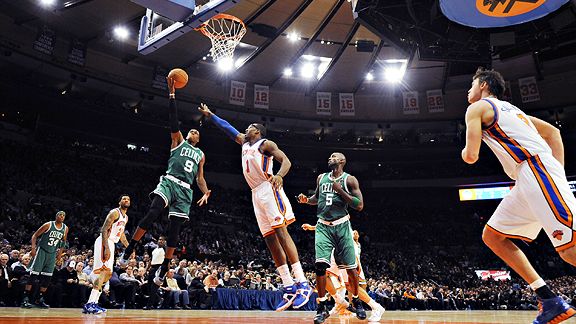 Getty Images
Where did Boston's win in New York rank on our list? Read on to find out.As we wait for the second half of the NBA season to tip off, we take a look back at a handful of top 5's from the first half of the 2010-11 campaign:
--5. January 5, 2011: Celtics 105, Spurs 103--
The Celtics were without the services of Kevin Garnett (strained right calf) against the team with the best record in the NBA, but his replacement, Glen Davis, did just fine, scoring a season-high 23 points on 10-18 shooting. Rajon Rondo messed around and recorded a triple-double (12 points, 10 rebounds, and a whopping 23 assists), and Ray Allen poured in 31 points on 13-16 shooting. The Celtics held a nine-point edge with just over a minute to play, but a 3-pointer from Manu Ginobili and a layup from Tony Parker, coupled with two costly Boston turnovers made things much more interesting than they should have been. Allen failed to convert two free throws with 8.1 seconds left and the Celtics leading by two points, but Paul Pierce (18 points on 7-10 shooting) stepped in and blocked Ginobili's potential game-winning 3-pointer as time expired.
--4. December 9, 2010: Celtics 102, 76ers 101--
Riding an eight-game winning streak, the Celtics were expected to sneak past the Sixers with relative ease and capture their ninth straight victory. Instead, some sluggish play on Boston's part led to a dog fight that came down to the final minute. The teams traded baskets over the final 60 seconds, with Andre Iguodala driving past Paul Pierce and converting a difficult runner with 6.6 seconds left, giving Philly a 101-100 advantage. With the game (and the winning streak) on the line, the Celtics converted one of the most memorable plays from the first half of the season: A Rajon Rondo-to-Kevin Garnett alley-oop lay-in with 1.4 seconds to play. Garnett faked a screen on Rondo's right side and dove to the hoop, bringing Rondo's man, Jrue Holiday, with him. Rondo lobbed the ball up high from well beyond the three-point arc on the right wing, Garnett caught it and turned in mid-air, and banked it in, capping off an exciting 102-101 victory for Boston.
--3. October 26, 2010: Celtics 88, Heat 80--
In what was arguably the most anticipated opening night in NBA history, the Celtics spoiled the regular-season debut of Miami's trio of stars in LeBron James, Dwyane Wade, and Chris Bosh. Ray Allen led the Celtics with 20 points, burying five of his eight 3-point field goal attempts, including a clutch one from the left corner with 49 seconds to play to put Boston up by six after Miami had cut their deficit to just three. Rajon Rondo dished out 17 assists, Paul Pierce added 19 points, and Kevin Garnett finished with a 10-point, 10-rebound double-double, as the C's sent the message that they were still very much the team to beat in the Eastern Conference.
--2. December 15, 2010: Celtics 118, Knicks 116--
With both clubs riding impressive winning streaks (the Celtics had won 10 straight, while New York had captured eight in a row), this game was billed as something of a litmus test for the playoff-hopeful Knicks against a Titan of the Eastern Conference in Boston. It was an exciting, practically defense-less affair, that stayed tight through the waning seconds. After Amare Stoudemire failed to convert with 12 ticks to play and the score knotted at 116, the Celtics turned to Paul Pierce, who buried a short step-back jump shot over Stoudemire with 0.4 seconds to play. Stoudemire (39 points on 15-22 shooting) could not get off a three-pointer in time for New York to steal the game, and Pierce gave a celebratory bow to the New York crowd. The Celtics captain poured in 32 points on 10-18 shooting and the Celtics extended their winning streak to 11.
--1. January 30, 2011: Celtics 109, Lakers 96--
Making their first appearance in the Staples Center since last year's devastating Game 7 loss in the NBA Finals, the Celtics put forth one of their strongest team efforts of the season, with six players scoring in double figures, led by Paul Pierce's 32 points. The Celtics shot a sizzling 60.3 percent from the field, and out-rebounded the Lakers 43-30 (an area that plagued them in Game 7 of the Finals last season). Rajon Rondo recorded 15 of his game-high 16 assists in the second half and Glen Davis and Nate Robinson combined for 24 points off the bench. Kobe Bryant dropped a game-high 41 points for LA, but the Celtics proved team ball can still overcome a great night from one individual star.
Greg Payne is a student intern for ESPNBoston.com