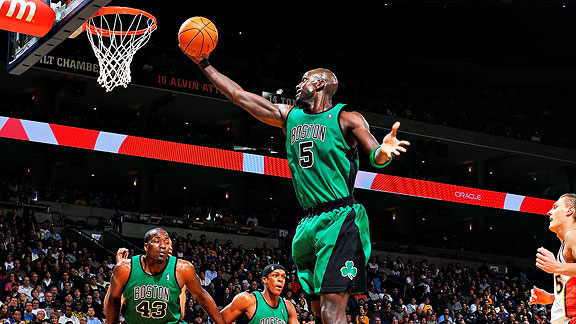 Rocky Widner/NBAE/Getty Images
The Celtics visit Golden State to kick off a four-game road trip Tuesday.The Boston Celtics reconvened in Oakland on Monday and will resume quest for Banner 18 Tuesday night against the Golden State Warriors as the Green open the second half of the season on another four-game west coast road trip.
--MAY: THIS TRIP COULD GET INTERESTING--
The Celtics' second Western swing of the season is a four-game journey through a pair of time zones, involving two trips in and out of California. It could turn out to be a memorable road trip for a lot of reasons, some of them even having to do with the games themselves. On the docket are two likely lottery teams, the Golden State Warriors and the Los Angeles Clippers, although one of the teams isn't playing like a lottery candidate at present. Also on the schedule are two probable playoff teams with their own internal issues: the Denver Nuggets (gee, wonder what that could be?) and the Utah Jazz (experiencing a coaching change for the first time since the waning days of the Ronald Reagan administration).
The toughest game on the trip? It might just be Tuesday's opener against Golden State. As Peter May writes: "Can you name the one NBA arena where Doc Rivers has never won as the head coach of the Celtics? As bad as the Warriors have been over the years, Oracle Arena has been Boston's personal charnel house. Hard as it may be to believe, the Celtics have lost their last six games in the Building near the Bay. Boston's last road win against the Warriors was on Dec. 29, 2003, a month before Jim O'Brien resigned."
--SOURCES: CELTICS IN MIX FOR HOUSTON'S BATTIER--
Boston Celtics president of basketball operations Danny Ainge has publicly acknowledged the need for backcourt reinforcements thanks to Marquis Daniels' bruised spinal cord and Delonte West's spotty health all season. After the name of Cleveland's Anthony Parker surfaced Friday as a player that Boston has joined conference rival Chicago in pursuing, sources said Monday that the Celtics and Rockets have likewise discussed the prospect of Shane Battier moving East.
The Celtics might not have the assets necessary to land a player the caliber (and contract) of Battier, but the team is fearlessly kicking the tires of every (potentially) available swingman looking to beef up their own roster for, not only the second half, but the second season.