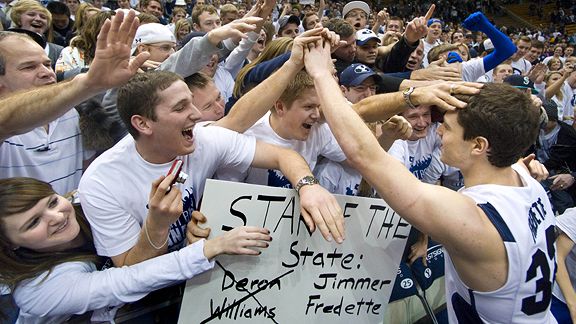 Douglas C. Pizac/US Presswire
Well, this sign is especially true after Wednesday's trade involving Deron Williams.The Celtics and three other teams took a pass on BYU scoring machine Jimmer Fredette last spring. Was it a missed opportunity or a smart move? Peter May examines:
--MAY: CELTICS AMONG THOSE THAT PASSED ON FREDETTE--
Even now, nine months after the fact and in view of everything that has transpired since then, the Boston Celtics, NBA sources say, have absolutely no regrets that they took a pass on BYU scoring sensation Jimmer Fredette in 2010. They could have had him last spring. So, too, could have the New York Knicks, New Jersey Nets or Oklahoma City Thunder. But all four teams looked at Fredette, worked him out and came away not believing he was worth a first-round guarantee. So Fredette returned for his senior season in Provo, Utah, and is putting up mind-boggling numbers for the No. 7 Cougars. He is widely considered to be one of three candidates for national player of the year, along with Nolan Smith of Duke and Jared Sullinger of Ohio State.
Bonus link: Why everyone loves Jimmer Fredette