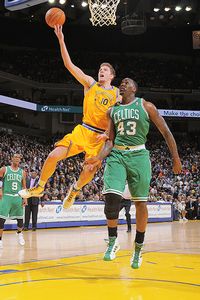 Rocky Widner/NBAE/Getty
The last thing Boston needed: Another injury, especially to a big man like Kendrick Perkins.With Celtics center Kendrick Perkins reportedly sidelined for the remainder of a four-game road trip due to a strained MCL in his left knee, Boston finds itself dangerously thin at two of the three frontcourt positions.
In fact, the loss of Perkins leaves the Celtics without a truly healthy center. Rookie Semih Erden, who missed four games before the All-Star break with a right adductor strain, limped back into the lineup Tuesday night against Golden State, but looked woefully rusty. Yet, with seven starts to his credit this season, it's likely Erden will be thrust back into that starting role beginning Thursday in Denver if Boston elects to continue bringing Glen Davis off the bench.
Davis' minutes are going to spike, regardless, with Boston's frontcourt depth behind Erden and Kevin Garnett limited to Big Baby and Luke Harangody. Shaquille O'Neal (inflamed right Achilles) and Jermaine O'Neal (left knee surgery) remain out indefinitely as the two veteran big men, brought in to add depth to Boston's froncourt, try to work their way back into playing shape while missing a combined 57 games this season.
Rivers admitted that the Celtics need to get Erden back to being the sort of aggressive player he was after emerging from the end of the rotation around the first of the year.
"Well, he's going to have to be more valuable," Rivers told reporters after Tuesday's win over Golden State. "We've just got to get Semih going. You've got to get him more physical and playing our way again. It's almost like he's been out, so he's kind of reverted back, so we've got to get back to our way."
The Celtics dressed and utilized 12 players Tuesday -- a rarity given the rash of injuries this season -- thanks to the returns of both Erden and guard Delonte West. But missing 21 feet of centers -- as Rivers likes to dub the absence of the O'Neals and Perkins -- is certain to put a strain on the frontcourt.
All indications are that Perkins' knee injury isn't anything to be overly concerned with and Boston seems to be simply exercising caution given the fact that he's still working his way back from offseason ACL surgery on his right knee (and any compensation for the new left knee ailment could lead to more serious issues with the right knee).
Perkins was averaging 7.3 points and a career-best 8.1 rebounds per game (matching his 2008-09 numbers) in 12 appearances (including seven starts). The loss of Perkins, even if only for a few games, again shows the lack of depth Boston has right now and makes you wonder if the team would be interested in adding emergency frontcourt depth (in addition to a swingman) before Thursday's trade deadline passes.