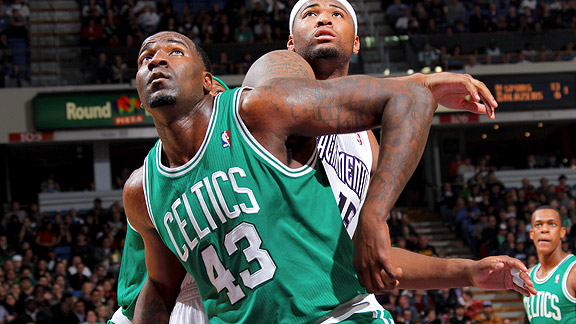 Rocky Widner/NBAE/Getty Images
Kendrick Perkins is off to Oklahoma City in a deadline shocker that brings Jeff Green to Boston.DENVER -- While we wait for the dust to settle on the Celtics' dizzying wheelings and dealings at the NBA trade deadline, here are five quick thoughts on the roster shakeup:
1. Wow -- While there's always an air of tension around deadline day, the Celtics arrived at the Pepsi Center Thursday morning with all their available bodies and coach Doc Rivers preached a focus on that night's game against the Nuggets. Just two hours later, the roster had been tipped on its head and it will be interesting to see if a shorthanded Boston squad can focus on its new-look opponent Thursday night in a national TV game.
2. Moves for now, future -- The Celtics desperately needed another swingman and in getting one (Jeff Green) that was better than what they might find on the buyout scrap heap, Boston paid a steep price in starting center Kendrick Perkins. What that move suggests to me is that the Celtics were not confident in their ability to re-sign Perkins this offseason and protected themselves from losing him on the free-agent market. It also seems to signal that the team will instead attempt to focus on locking up Glen Davis long term in the offseason.
3. Going Green -- The addition of Green is a very intriguing move, especially with eyes toward a Boston bench that has struggled with offensive consistency for much of the past two seasons. Boston gets the much-needed backup that will allow them to ease up on minutes for Ray Allen and Paul Pierce moving forward, while also developing a player that can slide into the starting lineup when Allen's time in Boston is over.
4. They're not done -- The Celtics have also cleared roster room by trading Semih Erden, Luke Harangody, and Marquis Daniels, Boston can still be aggressive in pursuing players (like potentially forward/center Troy Murphy) that end up in the buyout scrap heap. When Shaquille O'Neal is healthy, Boston has a formidable top 8 (with Green, Davis, and Delonte West off the bench) that could potentially get a boost if Jermaine O'Neal can get healthy (and anyone else the team can lure to town).
5. Chemistry shakeup -- The biggest question in all this might be how is Perkins' departure received by a close-knit team that spent an entire offseason preaching about how much he was missed in Games 6 and 7 of the NBA Finals. Sure, Boston got by just fine without him at the start of the year, but there was always the fact that he'd be back for a playoff push. Last year, the Celtics were rattled when struggling reserve guard Eddie House got traded for Nate Robinson. After the shock wore off, Boston moved on and made its Finals charge. Can it do the same this year?