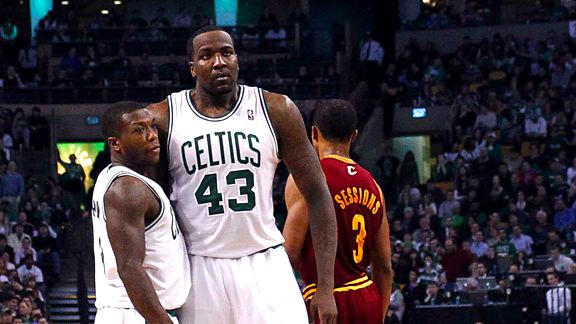 Mark L. Baer/US Presswire
The Celtics bid farewell to Nate Robinson and Kendrick Perkins.With Thursday's jaw-dropping trade that send Kendrick Perkins and Nate Robinson to Oklahoma City for Jeff Green and Nenad Krstic, the Celtics are taking a big risk. But they're also thumbing their nose at two rivals, writes ESPN.com's John Hollinger:
--HOLLINGER: C'S TAKE RISK BY DEALING PERKINS

--
Take note, Lakers and Magic fans: The Celtics are effectively betting against you.

They'll never say so in so many words, but actions speak much louder. And today's actions said that when playoff time rolls around, Boston thinks it will need perimeter depth, floor spacing and the ability to play smaller a lot more than they'll need quality low-post defenders.

Translation: Miami is the threat here, not Orlando. And if they survive, it's San Antonio, not the Lakers, whom they now match up better against.

Gone is low-post defensive ace Kendrick Perkins, but coming aboard are versatile wingman Jeff Green and, one suspects, floor-spacing power forward Troy Murphy.

The Celtics had better hope they're right about how the postseason plays out, because they are certainly taking a risk here. For one, they've basically put most of their eggs in a basket labeled, "Shaquille O'Neal and Delonte West staying healthy."
Hollinger also notes: "Nonetheless, one suspects if the Celtics still saw the Lakers and Magic as their two prime playoff threats, they wouldn't have made this deal. The fact the Heat and Spurs have played so well, one suspects, has altered their thinking."