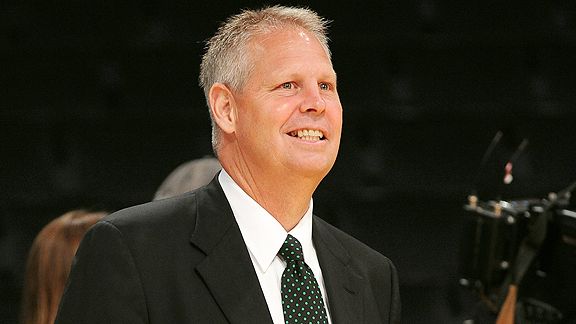 Noah Graham/NBAE/Getty Images
Will Danny Ainge be smiling when we look back at this trade in the future?Boston Celtics president of basketball operations Danny Ainge said Thursday night that while he "agonized" over the "very, very difficult decision" to trade center Kendrick Perkins, he thought the move to get Jeff Green and Nenad Krstic made the Celtics a better team going forward.
"We think it upgrades our team, ultimately," Ainge said in an interview on Boston sports radio station WEEI. "You always have to give up something of value to get something of value in return. We feel this will help our team this year and help us in the future as well."
Trading Perkins was made all the more difficult because of Perkins' popularity among teammates and fans and the fact that he was part of the Celtics' championship core. Ainge said that while his now former teammates might be stung by the move initially, he thought "in time they will see the benefits to our team."
"We agonized over it. Both Doc [Rivers] and I agonized over it. Went back and forth. ... It was a very, very difficult decision to make, yet one we thought was best for the team and where we're headed. His teammates, I think they will give Krstic and Green a chance to come in and show what they're capable of doing. At the same time there are some emotions there. They were very close."
Ainge acknowledged too that the decision was made all the more difficult because of how close he and Perkins were.
"I'm as close to Perk as any of them [his teammates]," Ainge said. "I have a great relationship with him. Brought him in as an 18-year-old out of high school. It was very difficult. We shed some tears today talking to Perk, it was tough. He's a good kid. I think he's going to a great situation."
One consideration in making the deal for Ainge was the fact that Perkins was in the final year of his contract and it appeared the two sides weren't close to an extension. The Celtics had reportedly offered him a four-year, $22 million contract. Perkins was reportedly seeking a deal worth $30 million over that same span.
Ainge said the Celtics had offered Perkins all they could under the current collective bargaining agreement.
"[Perkins] wasn't really interested in doing a contract extension, which I understand," Ainge told WEEI. "He wanted to test the market. Last time he didn't test the market and this time he really wanted to test the market and see what his value was.
"That was a concern but it wasn't so much of a concern that we would have done something just for that purpose. But the fact that we were able to, in our opinion, help our team this year and protect ourselves for the future was very good for us."
Another consideration for Ainge was his confidence in the team's current group of big men, which includes Shaquille O'Neal, Jermaine O'Neal and now Krstic. The big question mark there, of course, is counting on the O'Neals to remain healthy.
Shaq is currently out with a sore Achilles, though Ainge said he thought he could be back in a week. Jermaine, who had knee surgery recently, is "coming along fantastic," says Ainge, though his return is probably still a ways off.
"It was going to be tough to play all three of those guys [Perkins, Jermaine and Shaq] anyway and keep them happy," Ainge explained. "Having the three of them get through the regular season is one thing. But when it comes to playoff time there's going to be multiple guys that don't get a chance to play. Shaq has proven to be excellent with our starters. The numbers actually show he's been better with our starters.
"We beat all the good teams in the league while Kendrick was out, that gives you a little bit more comfort."
As for the new additions, Ainge, who originally drafted Green in 2007 but shipped him to the Seattle franchise as part of the deal to bring Ray Allen to Boston, was predictably excited.
"[Green] can play the four, he can play the three. He defends multiple positions. He can shoot the three-ball. He can post up smaller guys. He's a terrific passer. He brings length and athleticism to our team. And experience. He's got a lot of experience as a 24-year-old," Ainge said.
"Kristic is a terrific shooter. I think he complements [Rajon] Rondo's game very well. He's just another guy that can knock down that mid-range jump shot."
As part of his wheeling and dealing on deadline day, Ainge was also able to free up three roster spots, which he intends to fill with players bought out from contracts.
"We'll see what happens and be ready to pounce on players who will be bought out," Ainge said. "There are players out there right now that we like a little bit, we're not going to rush into anything. ... We're going to take a long hard look at all the names that get bought out here. We have some roster spots available."