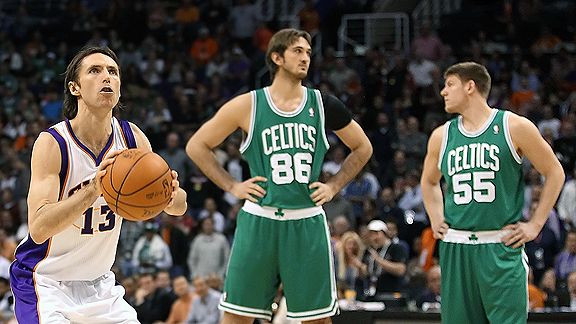 Christian Petersen/Getty Images
Semih Erden and Luke Harangody are the latest rookie shuttled out of Boston.DENVER -- Five leftovers from a dizzying deadline day with a focus on the those other than Kendrick Perkins that saw their tenures in Boston end as the Celtics made a trio of moves at the deadline buzzer:
--1. ROOKIES EARN HIGH PRAISE FROM RIVERS--
Celtics coach Doc Rivers admitted he didn't get to know Luke Harangody and Semih Erden nearly as well as he would have liked. That's a familiar rookie lament in Boston. But unlike many first-year players that spent their time glued to the Celtics' bench, Rivers heaped praise on the duo that logged decent floor time before getting shipped to Cleveland Thursday in exchange for a future second-round draft pick.
"I love Luke because every day he did the same thing: He played hard like a Kamikaze and I was most afraid of him in practice with our guys," joked Rivers. "But I love him, the way he played, and he never complained. He just did his job everyday.
"Semih probably loved me because he couldn't understand a word I was saying. That was probably a treat for him. But he's going to be good player. I don't think people realize how injured Semih was, not only with the groin, but his shoulder. He's probably going to need surgery on both. But he knew we were down and he played. That was pretty cool."
--2. KG: DEPARTED ARE BROTHERS FOR LIFE--
While lamenting the shakeup in team chemistry, Kevin Garnett suggested Boston will find a way to emerge stronger because of this. But he didn't mask the pain in saying goodbye to five players, one third of the full roster.
"We will adjust," said Garnett "I'm just speaking on today, the 24 hours we've had to deal with, it's been very difficult. But we'll continue to push, continue to do the things we do. We'll get through this.
"For the most part, I just want to wish Perk, Luke, Semih, [Marquis Daniels] and everybody who was here -- those are brothers for life."
--3. DOC: NO GAMES ON DEADLINE DAY--
Dressing only nine players, one of which was an emergency signing in center Chris Johnson from the Dakota Wizards of the NBA Development League, Rivers made another plea for the league to shift the trade deadline to All-Star weekend when teams are not in action.
"There should be no games on deadline day," said Rivers. "Obviously, I have very little juice [with the league] because for the last 10 years, I've said you should never have a game today. You shouldn't play on the trade deadline day, it should be over All-Star break. Because things happen and you can't get enough guys. It happened last year to a couple teams. I don't know why, but it is what it is. We have to play with what we have."
With Paul Pierce in early foul trouble, Boston found itself really thinned Thursday, but still managed to hold a small fourth-quarter lead before running out of gas over the final six minutes.
--4. OH YEAH, THERE WAS A GAME THURSDAY--
Overshadowed by all the deadline hoopla, the shorthanded Celtics fell to the Nuggets, 89-75, waving a white flag at the checkered flag (Kenyon Martin draining a 3-pointer in the final seconds of a monster run by Denver, the final head-shaking moment of a forgettable game for Boston).
"I wasn't real happy with what we ran down the stretch of the game," said Rivers. "We walked into a lot of sets and that might have been over fatigue. We told our guys, we try to set our offense with 18 and 19 on the clock. We started it with, I think, six or seven times in a row in that stretch, under eight [seconds]. It's tough to run offense with eight seconds on the clock. It could have been [fatigue]. It very well could have been."
--5. D-WEST: HEY, CLEVELAND AIN'T THAT BAD--
On a day when emotions were raw, Delonte West provided a lighter moment when discussing Erden and Harangody being shipped to a Cleveland team he played for last year (albeit, then a title contender that also had the likes of Shaquille O'Neal and LeBron James).
"Cleveland's not that bad," said West. "I had a nice condo on Lake Erie. It's some of the best facilities in the NBA. They've got things going for them... [The NBA record losing streak this season] doesn't speak for the city, the organization, or what they're trying to accomplish there."