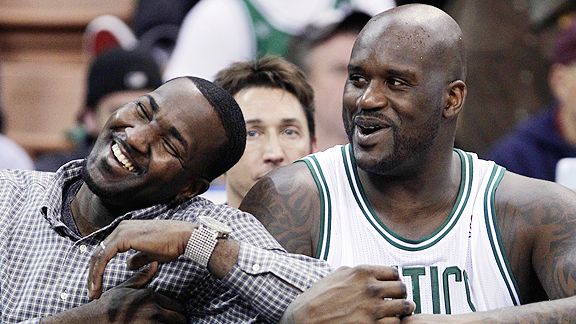 AP Photo/Charles Krupa
Kendrick Perkins and Shaquille O'Neal share a laugh earlier this season.There's no feeling quite like your favorite team trading someone you genuinely liked, writes ESPN.com's Bill Simmons:
--SIMMONS: CELTICS WILL MISS PERKINS--
And there's the rub. We don't play basketball on paper. I cared about this particular Celtics team more than any Celtics squad since Reggie Lewis was alive -- and that includes the 2008 title team -- mainly because the players enjoyed one another so much. I wasn't surprised to hear that Perkins cried for most of the day Thursday, that Boston's veterans were infuriated by the trade, that Rondo (Perk's best friend) was practically catatonic heading into Thursday night's game in Denver. These guys loved one another. As recently as last season, you couldn't have said that. But Shaq loosened everyone up; so did four full years of the core guys being together; so did Doc's belated maturation into an impactful coach (believe me, I'm as shocked as anyone); so did the contract extensions (Boston's four All-Stars are signed through at least 2012); so did the bonding experience of blowing Game 7 and having that purple confetti fall on their heads; so did the enduring belief that nobody had ever beaten them when they were healthy.
Later, Simmons writes: "Selfishly, I wanted one more chance with them: Garnett, Pierce, Allen, Rondo, Perkins, Baby and Doc, the only seven guys who mattered here. But that's the thing about sports -- 'them' always seems to change when you least expect it."