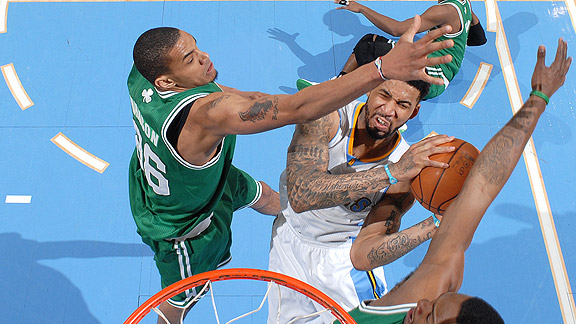 Garrett W Ellwod/NBAE/Getty Images
From the D-League to TNT, it was a whirlwind Boston debut for center Chris Johnson.DENVER -- The call came at nearly the exact moment word began to trickle out that Boston had executed a jaw-dropping trade to send starting center Kendrick Perkins to the Oklahoma City Thunder Thursday afternoon at the NBA's 3 p.m. deadline. The Celtics were desperate for an available big man and Chris Johnson's agent was yelling at him to catch the next flight from Bismark, North Dakota to Denver.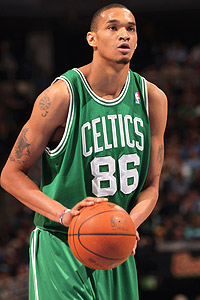 Doug Pensinger/Getty Images
Yep, that's Semih Erden's old No. 86 jersey that Johnson's wearing.Johnson, a member of the Dakota Wizards of the NBA Development League, agreed to a 10-day contract, made the 650-mile trek, got a haphazardly modified version of Semih Erden's No. 86 jersey, and by the time he looked up, he was throwing down an alley-oop lob from Rajon Rondo on national TV.
"It's been a crazy day," said Johnson after chipping in six points, three blocks, and a rebound over 17 make-them-up-as-you-go minutes in Boston's 89-75 loss to Denver Thursday.
Playing with only eight other available bodies on a day Boston traded away five members of its roster (and two more bigs, Shaquille O'Neal and Jermaine O'Neal remained away from the team rehabbing injuries), Johnson proved to be one of the only positives in a game Boston limped to the finish line.
"I thought C.J. was phenomenal tonight -- he already has a nickname," joked Celtics coach Doc Rivers. "His name is C.J. I thought he was great. He blocked shots, he showed great energy, so that was nice. It's refreshing sometimes to see this guy from the D-League. He's hungry and, shoot, he wants everybody's job and everybody's minutes and you could see it, so I kind of enjoyed that."
Johnson probably wishes he could have enjoyed it, too. But his head was spinning. Yes, he had already earned one NBA call-up from the Portland Trail Blazers earlier this season (appearing in two games) and he spent a few days with Boston during their training camp in Newport, R.I., but this was an unexpected, grab-your-shorts-and-go opportunity on a big stage.
Johnson got a crash course in Boston's philosophies from assistant coaches before the game, but Rivers kept things simple.
"I just threw him out there and said, 'Try to stay out of the way,'" said Rivers. "Run the floor. I told him every time we get a rebound, I want you to act like Jesse Owens, just run the floor and see if we can get you a lob or a layup because he does that very well."
Johnson proved it with his fourth-quarter dunk off the Rondo lob. It gave Boston a 64-63 lead with under 11 minutes to play, but the Nuggets would score the final 16 points of the game and runaway with the win. Johnson did more than could have been expected of him given the situation.
"They told me to be active," he said. "That's my role in Dakota: Rebound, block shots, just be active."
In a way, that's exactly what Rivers and Co. had been trying to get out of Erden, the young center dealt to Cleveland Thursday along with fellow rookie Luke Harangody in exchange for a future second-round draft pick. The Celtics wanted Erden to play with the sort of sustained motor that Johnson brought to the court against Denver. Young players can mask their lack of polished skills with intensity.
Now it's up to Johnson to make the most of his opportunity. Newly acquired Nenad Krstic is expected to be in uniform Saturday night against the Los Angeles Clippers, which could limit Johnson's floor time moving forward. But he's here for 10 days and he plans to make the most of every minute, especially knowing Boston created three available roster spots with Thursday's trio of deadline moves.
"You never want to say, 'I'm just here for 10 days,'" said Johnson. "You want to make something happen for yourself, let the guys know you can fit in. I just gotta work hard."
Informed of the hand-me-down jersey he sported Thursday, Johnson simply laughed. Asked what number he would have chosen if he had a choice, he simply shrugged.
Those things don't matter. They could have given him Nate Robinson's No. 4 jersey and he would have crammed his lanky 6-foot-11 frame into it and hit the floor just as hard.