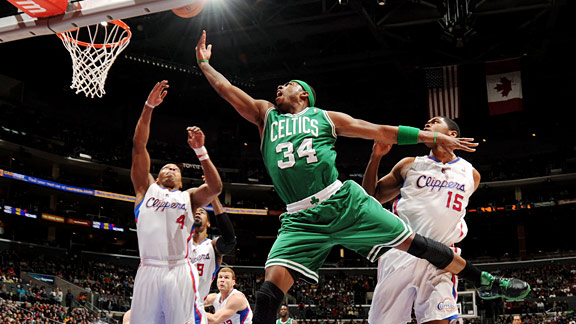 Noah Graham/NBAE/Getty Images
Paul Pierce and the Celtics made a concerted effort to attack the basket vs. the Clippers.LOS ANGELES -- Rapid reaction after the Boston Celtics defeated the Los Angeles Clippers 99-92 Saturday night at the Staples Center:


HOW THE GAME WAS WON
Paul Pierce scored a team-high 24 points, shrugging off a poor shooting night (6-of-14 overall) by getting to the charity stripe 13 times to fuel Boston's free throw line parade. Ray Allen added 22 points, while Kevin Garnett logged a double-double (16 points, 11 rebounds). Randy Foye scored a game-high 32 points for the Clippers, while Blake Griffin kicked in 21 more. Making their Boston debuts, Jeff Green registered seven points over 17 minutes, while Nenad Krstic added nine points and six rebounds (all on the offensive glass, a new Celtics' single-game high for the 2010-11 season) over 21 minutes.
TURNING POINT
Despite trailing by seven coming out of the intermission, the Celtics cranked the intensity and needed little more than three minutes to all but erase their deficit. A Krstic jumper with 7:45 to play in the frame, put Boston out front and ignited a 12-2 run that culminated with a Garnett alley-oop jam off a Rajon Rondo feed for a 62-53 edge with 5:13 to play in the third quarter.
STAT OF THE GAME
The Celtics shot a staggering 41 free throws, eclipsing their season high (39 vs. the Nets on Feb. 16). Only eight times had Boston scaled above 30 free throws this season and this is their first foray into the 40's. What's more, Boston made 35 of those freebies, shooting 85.4 percent as a team.
UNSUNG HERO
In only his third game back after missing 39 contests with a fractured right wrist, Delonte West showed glimpses of the player the Celtics expected back before the injury bug bit. West chipped in nine points off the bench, hitting a pair of trifectas, while adding five assists and three rebounds over 20 minutes.
WHAT IT MEANS
After stumbling in the first game of the post-Perk era Thursday in Denver, Boston righted its ship with help of its newcomers. There's plenty of work to be done as the Celtics integrate their new faces, but on this night Boston erased a 13-point first-half deficit to win for the second time in three games on this road trip. The Celtics will enjoy Sunday's offday with coach Doc Rivers noting at Saturday's morning shootaround that coaches will log extra time with Green and Krstic to help them continue to learn the playbook.